View entry
Name: NEILSON, Samuel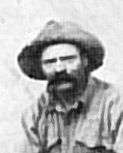 First Date: 1922
Profession: Farmer, sawmill
Area: Rumuruti, 1925 Suguroi, 1922 Solai, Thomson's Falls
Book Reference: KAD, Red 25, Hut, Drumkey, Red 22, Land, North, EAHB 1907, Red Book 1912, Stoneham - Mau, Red 25, Hut, EAMR, Playne, A.G.D. White
War Service: EAMR has S. Nielsen - E Sqdn. 22/5/15 - To Scouts
General Information:
Drumkey 1909 - Directory of Residents - S. Nielson, Njoro
Land - 1906 - E. Edwards, S. Neilson and Mrs Bartlett - Grazing, 5000 acres, Mau Escarpment, 28-7-04, Registered 25-9-06 Picture is from EAMR by Wilson - The EAMR Scouts - S. Nielsen ?
North - Land Grant application Mau Escarpment 28/7/1904; Landholder's Game Licence Naivasha 4/5/1905; Firearm registered Nairobi Oct-Dec 1905
EAHB 1907 - S. Nielsen - Njoro
Red Book 1912 - S. Nielson - Eldama Ravine
Stoneham - Mau - Mr & Mrs Nielson, while seated at dinner, saw a rifle barrel poked round the door. Mr Nielson drew a .22 pistol - which misfired twice! Probably it was one of the inferior Continental weapons which people were buying because they could get nothing better. Mrs Nielson slammed the door while her husband ran into the bedroom to get a shotgun. Two shots were fired by the man outside and then he ran away. It was a somewhat half-hearted attempt and the Nielsons were lucky.
Playne - The Waters & Neilsen Sawmills - These mills are close to the railway station at Escarpment. The proprietors have permission to cut timber in this district and they pay the Forestry Dept. a royalty on the cubic measurement, the Dept. marking the trees. The output is about 1000 square feet per day, and is mostly juniper (or cedar). Messrs Waters & neilsen are of opinion that a big export business in timber will be done later on when the railway rates are lower. ....... Every class of sawing is undertaken including shingles and sleepers. Hauling work is also done by contract. The demand for timber is entirely local, and is quite equal to the supply. The two partners do all the work themselves with the help of about 30 natives.
Barnes - EAMR has Samuel Nielson, Private, No. 572
A.G.D. White - Lesirko (near Gilgil) - owned by H.A.D. White - Sam Neilson, sawmill manager until 1929
Red 25 has S. Nielson, Elgon Saw Mills, Kitale.
Hut 1919 S. Nielsen Eldoret, Hut S. Nielson 1925 Elgon Sawmills Soy, Hut S. Nielson 1946 Nakuru, Hut - S. Nielson 1908 Njoro.
EAMR - Photo - The EAMR Scouts