View entry
Name: NIGHTINGALE, William Maxwell 'Max' (Senior) MBE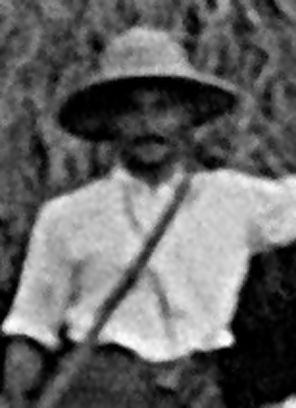 Birth Date: 1882 Cape Colony
Death Date: 10 May 1962 Nairobi
First Date: 1906 - September
Profession: Surveyor, Railway construction. After WW1 they farmed in South Kinangop for more than 50 years. He surveyed the Fey's farm two years after they arrived.
Area: Naivasha. Hut - 1906 Sasamua, S. Kinangop, 1914 Eldoret
Married: 1908 Eleanor Mary Fey b. 1885 South Yarra, Victoria, Australia, d. 1965 Nakuru
Children: James Maxwell 'Jim' (6.1.1910-1983); Eleanor Clare Fey (16.9.1911 Kiambu-1958) (Etherington); Ernest Ivo DFM (1916-12.2.1942 Norwich)
Book Reference: KAD, Gillett, Midday Sun, Over my Shoulder, KAD, Red 25, Hut, Pioneers, Drumkey, SKP, SS, Leader14, Barnes, Rift Valley, Red Book 1912, Barnes
War Service: WW1 with EAMR - B Sqdn. 8/8/14 - 28/9/14 - L/Cpl. 10/8/14; to EATC
General Information:
Gazette 6 Dec 1938 Rift Valley Voters List
Gazette 12 June 1962 - probate
Midday Sun - 'I do not know whether Max and Nell's 3 children were actually born in an ox-wagon, but that is where they spent their early childhood, travelling all over the Protectorate and with no other home. The eldest son, Jim, remembered walking along behind the wagon, at the age of 4 or 5, to escape the jolts and lurches, and weeping in anguish when, unable to keep up, he saw his home disappearing in the distance in a cloud of dust. At 7 years old he became the first pupil to arrive, on his Somali pony, at the newly opened Kenton College, a preparatory school housed in an imitation German Schloss perched on a mountainside near Kijabe station.
Over my Shoulder - 'William Maxwell Nightingale, had arrived in 1905, as a young surveyor; many of his original maps are in use to this day. For the Government he surveyed new land as it was opened up, and as well as this, he took on the onerous task of surveying many of the Arab plantations at the coast in the hope that this project might be the means of setting free many thousands of slaves who were still held in captivity. For most of this work he had his headquarters in Takaungu. At first, this operation was not entirely successful, as many slaves died in the ensuing chaos.
Max Nightingale must have been 'quite a man', as we find him in another place doing a sheep-buying deal for Captain Venn Fey, a farmer on the highlands above Naivasha. Here the young Max Nightingale must have shown tremendous resourcefulness and more than a little courage. At that time there was one way, and one way only to obtain this brown or white haired foundation stock, known as the Masai ewe, and that was through the colourful organisation known as the Boma Trading Company .......….'
Drumkey 1909 - Survey Department - Cadastral Survey - Senior Staff Surveyor
SKP - 1938 - Society of Kenya Pioneers - over 30 years in Colony - arrived Sept 1906 - Nairobi
Soldier Settlement Scheme after WW1 - Class B - Capt. W.M. Nightingale, MBE, c/o National Bank of India, Bishopsgate, EC - Farm 734
Barnes - Njabini Cemetery - William Maxwell Nightingale - beloved husband of Nell
Rift Valley - Member of the Rift Valley Sports Club - Jan 1929 - Elected - 14 Dec 1916 - W.M. Nightingale
Red Book 1912 - W.M. Nightingale - Naivasha
Gazette - 3/12/1919 - Register of Voters - Rift Valley Area - W.M. Nightingale - Farmer - Naivasha and Elianor Mary Nightingale - Married - Naivasha
Barnes - Nakuru North Cemetery - Eleanor Mary Nightingale, Sept 1885 - Dec 1965, "Aunt Nell", loved by all
Gazette - 21/2/1933 - Dissolution of Partnership between William Maxwell Nightingale, John Westall Etherington, Humphrey John Sankey and Robert Nevill Wilton under the style of Nightingale and Etherington - dissolved by mutual consent.
Red 22 has W.M. Nightingale, N.T. & Co's Buildings, Nairobi AND W.M. Nightingale (Jnr.), Naivasha
Red 25 has W.M. Nightingale, Box 606, Nairobi.
Red 31 - Sasumua, Naivasha
Gazette 12 June 1962 probate
Gazette 24 May 1966 probate for Eleanor Mary who d. Nakuru 29 Dec 1965 - required by James Maxwell Nightingale