View entry
Name: THOMPSON, Thomas Acland Douglas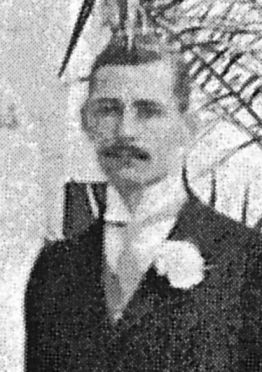 Birth Date: 1887
Death Date: 9.3.1915 Karungu, killed in action
First Date: 1912
Last Date: 1915
Profession: Coffee planter
Area: Koru, Khitari Estate
Married: In Westminster 1914 Olga Florence Baillie-Grohmann b. 1889 Lymne, Kent, d. 6 Dec 1947 Nairobi (in 1917 m. Oscar Ferris Watkins 1877-1943)
Book Reference: Hut, Curtis, Gazette, Olga
War Service: King's Own Dragoon Guards, KAR
General Information:
Curtis - p. 134 - 'Working For Ainsworth' Olga Watkins' experiences during WW1 - 'Olga Baillie-Graham [sic] married Douglas Thompson in January 1914 and came out to BEA to farm at Koru. Her family were British, living in the Austrian Tyrol. He was a soldier whose regiment was in India but who had been invalided out with malaria; he had stopped at Mombasa on his way home from India and bought land up country. Despite Douglas Thompson's recurrent attacks of malaria they had made some progress with the farm when war broke out. Douglas volunteered for service at once.
Gazette - 14/7/15 - Probate & Admin. Acland Douglas Thompson, of Koru Khitaru Estate who died at Karungu on 9/3/15. Applied for by Olga Florence Thompson
Olga - Regular officer in the King's Own Dragoon Guards and served with his regiment in India …….. malaria ….. to be invalided back to England on long sick leave with possible discharge from the Army. ….. He had decided to break the journey at Mombasa and travel up country for some big game shooting in BEA …… He travelled as far as Uganda …… On his way back through Kisumu, Douglas, with Olga's encouragement, put his name down for an allocation of land. It proved too expensive for him so he bought jointly with 3 other men, each man taking 500 acres. Choosing business partners from unknown people singled out by their lack of funds was not the wisest way to start a business, but at the time it seemed the only solution.
Douglas remained in Kenya for the rest of 1912 and most of 1913, camping on his land with his 3 partners. The surveying skills cquired in the army were useful and enabled him to earn money. He arranged for a mortgage; planted some 30 acres with coffee, and mapped out his future farm …… Olga described him ….. "He is half pure Scottish and half Irish, and I never thought what a good mixture that could be! He is nice looking, about 2 inches taller than self (She was 5ft 11 ins) dark, and aged 25.