View entry
Name: TYSSEN, Francis Dashwood (Major)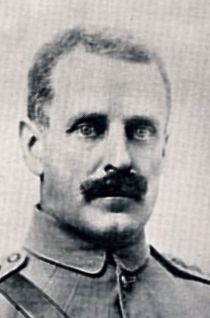 Birth Date: 12 Dec 1870 Melbourne, Australia
Death Date: 4 June 1952 Nairobi
Nationality: Australian
First Date: 1903
Last Date: 1952
Profession: Appointed an Inspector with BEA Police in 1905 he was subsequently Commissioner of Police. On retirement he lived in Nairobi until his death in 1952.
Area: Nairobi, 1930 Box 171, Nairobi
Book Reference: Gillett, HBEA, Cuckoo, Police, Land 1903, KAD, Red 25, Red 31, North, Playne, Drumkey, Red 22, EAHB 1906, Foster, EAHB 1907, Barnes, Leader14, Red Book 1912, Red 19
War Service: Lieut. Scottish Horse
School: Melbourne Church of England Grammar School and Trinity College, Melbourne University
General Information:
Cuckoo - story of horse and bees' nest in Nbi. 1906 (p. 298/9. Retired on a well earned pension and in 1936 was living on the Ngong Road.
Police - Appointed an Inspector in the BEA Police in 1905 (May 22nd) - later Commissioner of Police. ...... in 1928 he succeeded Capt. P.F. Browne as Asst. Commissioner under W.K. Notley. When Notley retired in 1922 Tyssen took over as Commissioner. During his term of office he was called upon to deal with some serious outbreaks of trouble ....... (1922 Harry Thuku trouble pp. 57 -) .......... In 1925 he went on long leave to Australia pending retirement from the Force after completing 20 years' service.
During the period from May 22nd 1905, until his retirement he had proved himself to be a first-class leader, ever extremely conscientious in the performance of his duties; a man who never spared himself, and who had earned a high reputation for being a true and personal friend of the men serving under him. During his three years as Commissioner of Police, Tyssen had steered the Force successfully through a difficult period in its history. It had been marked by thin Budgets, retrenchments and ungenerous establishments while the Colony was undergoing the process of rapid development and during a considerable degree of new European settlement. On retirement he made his home off the Ngong Road at Nairobi, and during the next 27 years never once lost keen interest in the welfare of the Kenya Police, though an invalid and crippled with arthritis. He died at Nairobi on June 4th 1952, when aged 81 years. He bequeathed to the Officers' Mess, his silver tea and coffee services, a gesture which was immensely appreciated by all those who had served under him and been counted among his friends.
Land Grant 1903 - F.D. Tyssen - Agricultural, 640 acres - Ruweira River - Dec 21 - Freehold. Further Grant - F.D. Tyssen - Agricultural, 640 acres - Ruaraka River - Dec. 21 - Freehold
KAD 1922 - Asst. Commissioner of Police
Red 25 - Commissioner of Police 1922 - , Committee Member, REAAA
Playne - Assistant District Superintendent in 1909
Drumkey 1909 - Police - Assistant District Supdt.
Foster - Francis Drummond [sic] Tyssen - Bequeathed his house and its contents, worth £5000, to All Saints Cathedral
Barnes - Nairobi City Park Cemetery - Francis Dashwood Tyssen, died 4 Jun 1952 aged 81
Red Book 1912 - Police Dept. - Superintendent
Gazette - 12/11/1919 - Register of Voters - Nairobi, South Area - Francis Dashwood Tyssen - Police Officer - Mackenzie Road
Red Book 1919 - Superintendent of Police
HBEA 1912 Superintendent of Police, Nairobi. Served in Nbi. Under Foran