View entry
Name: THOMASON, George William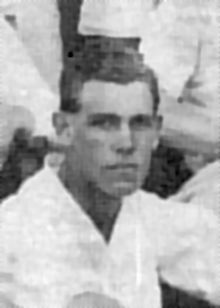 Nee: son of Oscar and Mary Thomason
Birth Date: 14 Jan 1898 Gloucester, New Jersey, USA
Death Date: 1968 S. Africa
First Date: 1912
Last Date: 1960
Profession: Member of Nairobi Rugby XV 1921 (G. Thomasson). Roan constructor.
Area: Box 145, Nairobi
Married: In Mombasa 1953 Mrs Elinor Christina 'Chrissie' Jolley b. 24 Aug 1900 Micklegate, York, d. 1974 S. Africa (dau of Robert and Amelia Tate-Smith, formerly m. to Norman Rhodes Jolley 1895-1978)
Book Reference: EAWL, Nondies, KAD, Red 25, Red 31, Red 22, Barnes, R. Jolley, Hut
War Service: Served with armed forces in WW1. Severely wounded in Tanganyika
General Information:
Source: Ronald Bevan Jolley
Barnes - Early player for Harlequins RFC, 1920s
R.B. Jolley - "… in August 1952 Chrissie Jolley and George Thomason packed up their Chev. Panel van and drove to Rhodesia. But, due to problems on the Kenny's farm in Rhodesia, Chrissie and George at the end of 1953, drove back to Kenya. Stayed a few days in Mombasa with daughter Winifred and Pip Newett, and while there Chrissie and George were married. Chrissie in fact some years back, on divorcing Norman Jolley had by deed poll changed her name to Thomason. Arriving back in Nairobi, penniless, no job and virtually nowhere to live. It was due to Barbara Smithson, whose mother had been a great friend of Amelia Tate-Smith working for the Forest Dept. was instrumental in getting George Thomason a contract, making roads in the Uasin Gishu forest areas. This carried on until 1960, when eventually Chrissie and George packed up, this time moved to Tanzania, to live with son Denys Jolley."
Red 25 - c/o J. Button, Nairobi.
Red 31 has G.W. Thomason, Int. Harvester Co., Nairobi
1910 US Census