View entry
Name: KITCHENER, Henry Elliott Chevallier, 2nd Earl Kitchener of Khartoum, Lord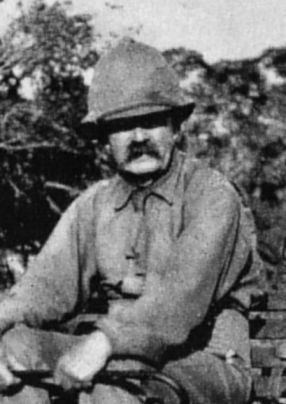 Nee: eldest of 3 brothers of Irish parentage. Elder brother of 1st Earl Kitchener of Khartoum
Birth Date: 5 Oct 1846
Death Date: 27 Mar 1937 Eldoret
First Date: 1915
Profession: Farmer
Area: Soy, Muhoroni, Eldoret, 1930 Kapsabet, Hut 1930 Kibabet Estate Nandi Hills
Married: 9 Oct 1877 - Eleanor Fanny Lushington (d. 1898) only child of Lt.-Col. Franklin Lushington CB (Lushington Bt.)
Children: Henry Franklin Chevallier (Viscount Broome) (1878, d. 1928) Capt. RN, Norah Frances (1882, d. 1919)
Book Reference: Cuckoo, Leys, Oscar, Gethin, Joelson, Cranworth, Perham, Debretts, KAD, Red 25, Red 31, Hut, Red 22, Thurston, Burkes, Olga, Fox Davies
War Service: Franco Prussian War etc
General Information:
Cuckoo - Lord Kitchener of Khartoum took up a large area of land at Muhoroni, and by his will left the property to his devoted friend and Personal Military Secretary, Lieut. Col. A. Fitzgerald. Succeeded to titles under special remainder 1916
Cuckoo cont. - After their tragic deaths on HMS Hampshire on that ill fated voyage to Russia during the Great War, his brother (the present (1936) Earl Kitchener) assumed ownership of the property and since has made his home in Kenya Colony.
Leys - Advert in 'The Times' 1/4/1922 - "Earl Kitchener, Soy. P.O. Kenya Colony wishes to let two partly developed farms of 1000 acres each at rent of £150 a year, and one undeveloped farm at £100 a year, on the Nzoia River, twenty miles from proposed station on the railway extension now in course of construction. Also for sale, for £6000, a developed farm of 1500 acres, nine miles from proposed railway station."
Oscar - [Note] - First Earl of Khartoum 1898, Viscount Broome 1902, bought with his older brother vast estates throughout EA. .......... Kitchener of Khartoum and his elder brother had taken up large tracts of land in BEA before WW1.
Kitchener was a great friend to Olga Watkins. In 1929, well into his 80s, he was still devising new schemes for the employment of labour, wanting to make all workers into squatters with far greater priviledges than they had at present, and begging Oscar Watkins to obtain such labour for him. He liked both the Watkins and wanted to draw them into his net, suggesting to Oscar that he retire early and become his manager. .....…..
Kitchener's financial problems were serious. When his younger brother was killed, he inherited the title but his son inherited the property, a decision to avoid double death duties. The old man already had 80,000 to 90,000 acres of his own and had borrowed from his newly rich son to develop this land, and loaned out borrowed money to provide mortgages for purchasers.
Now in 1929 sisal prices were so low that many mortgagees had gone into liquidation. Neither interest nor capital could be reclaimed, nor could the land be sold. He lived at Soy, about 20 miles from Eldoret, alone on the farm where his wife and daughter lay buried. He had been so pressed to repay his own debts that he gave up his £400 a year pension to meet his creditors.
Worse was to come. His only son died in 1928 and the old man's financial position was exacerbated by his quarrels with his daughter-in-law, Lady Adela Broome. By Kitchener standards, Lady Adela was extravagant; and there was recurrent wrangling as to who owed whom money and how it should be repaid. Despite these financial restrictions Kitchener's main concern in life seemed to be to ensure that both his grandsons went to Winchester and inherited £10,000 each on their 25th birthdays; even this generous provision was a comedown; he had hoped to settle £70,000 on each of them. ......…
Lady Broome was in a difficult position; she was his nearest relative and mother of his heirs, yet he refused to talk to her. When she took the long sea journey from England and then travelled 600 miles up to Eldoret, she asked Olga Watkins to drive her out to Kitchener's farm, for Olga could do anything with him. It was well known that when the old man visited Eldoret, she made him take a bath, have a haircut, go to the doctor, buy new clothes, do his accounts, stock up his larder and write to his grandsons. Even she could not make him talk to his daughter-in-law.
In 1929 Oscar Watkins wrote: 'I find him attractive and repulsive at the same time. Is he a nice character hardened by life or distorted by the drive for money? I have to keep my mind completely uncritical half the time the old man is talking or I should have to run him in!'
Gethin - 1913 - 'Lord Kitchener had a big sisal estate close to Muhoroni station run by an ex Marine called Bill Perry. Perham - 1929 - staying with Col. O.F. Watkins the PC at Eldoret - Lord Kitchener was staying there, a local settler, Kitchener of Khartoum's elder brother, with eyes like a mastiff. He was dirty and sloppy, and had a derelict Ford. He told us that he was paying his boys only 6s a month. For me it was a very disturbing encounter.
Debretts - is Col. (retired); formerly Lieut.-Col. Duke of Cornwall's L.I.; France 1870 (medal), Burma 1891 (despatches, medal with clasp), Manipur Expedition 1891 (despatches, clasp), European War 1914-17 (1914 star, 2 medals, Croix de Guerre); was DAAG, Jamaica 1893-8; sometime Col. Comdg. W. India Regt. Depot
Thurston - Official Records - CO533 - 437/13 - 1933 - Earl Kitchener: concern over present circumstances
Thurston - Official Records - CO533 - 461/18 - 1935-36 - Settlement on Earl Kitchener's Estate, W.S. Bromhead's scheme
Gazette 18 Jan 1938 probate