View entry
Name: TRENCH, Walter Frederick Oliver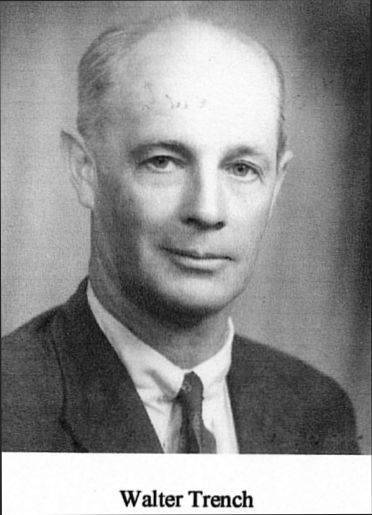 Nee: son of William Cosby Trench, brother of Algernon Oliver, related to Baron Ashtown
Birth Date: 10 Mar 1899 Clonodfoy Castle, Limerick
Death Date: 22 Mar 1960 Bagenalstown, Co. Carlow
First Date: 1920
Profession: Farmer - 8000 acres. Chairman of the KFA 1940-49
Area: Molo Downs - 'Temoyetta', 1922 Mau Summit, 1930 Molo, 1920 Farm 9 Mau Summit
Married: 1. In Cork 8 Feb1921 Norah Maude Becher b. 1898 Lismore, Waterford, d. 1958 'Temoyetta', Molo (suicide) 2. 22 Mar 1960 Mrs Marian Gwendolyn Turner née Young
Children: Olga Ann Oliver (Hindley) (2 Mar 1922 Kenya-1996); Cecil John Oliver (23 Sep 1923-22 Oct 1942 killed on active service RAF); Rachel (b.and. d. 2 Nov 1926 Kenya); Kieran Hedges Oliver (24 May 1929 Kenya-1960); Norah Susan Oliver 'Noni' (Gash) (1936)
Book Reference: Last Chance, Over my Shoulder, KFA, Bovill, Debretts, KAD, Red 25, Red 31, Hut, Red 22, Pioneers, Thady Ryan, Burkes, Peerage, Browne
War Service: F/O Royal Flying Corps in WW1
General Information:
Was given name Power Frederick Oliver Trench at birth - legally changed in 1899.
Last Chance - Came to their farm on Molo Downs in 1920 after Trench had worked with his friend, another Irishman, Frank Joyce, at Ulu, until he got the hang of how at least to start farming in Kenya. He bought 500 acres on Mau Summit and put up only a grass hut. They lived 18 months in that grass hut, then another 18 in the mud and wattle hut. They had no kitchen, cooked on a fire made between three stones, and the bath was out in the open, on the veranda. The room they had intended for the bath was found to be too precious - it was needed as a dairy. The hut had a mud floor. Their two first children were born on it, without the aid of a doctor.
When two neighbours came along, as amateurs, to assist with the second child, the baby arrived before them, and they spent the rest of that night drinking the bottle of whisky they had brought along for Walter Trench. To-day (1948) the Trenchs have a home built of brown natural stone, with a deep fireplace they built themselves, and a restful roof of red drain-pipe tiles, put on by the Italian prisoners of war, who seem to have done all the artisan work for Kenya before they were repatriated. (more re struggles etc.pp.75-77)
Over my Shoulder - Walter Trench started farming in Molo after the first World War, in which he had fought as a pilot in the Royal Air Squadron. He and his wife Nora shared an Irish ancestry, as indeed they shared the hazards of those first perilous years of farming in Kenya. It would be hard to find in all this world a man who carried his head and his heart so high or who proclaimed his enthusiastic if somewhat problematical optimism more vehemently. In failure or success, it was always the same - it would all come right in the end! He gave many years of his life in the service of Kenya, as chairman of the KFA, and as a member of Legco.
Nora Trench also spent herself in work for the community, and earned its deep and abiding affection. Their life was not easy and they and their farm had suffered many devastating knocks over the years. Disease and every type of unexpected vicissitude well-nigh wiped them out on many occasions and their crowning disaster came in 1929 with the first big invasion of locusts that Kenya had known since 1889. For this the country was entirely unprepared, and lack of knowledge as to how to handle the situation had very nearly bankrupted everyone in the country, Walter Trench included. Poison bait was laid down by the ton in the hope of destroying the immature hoppers, but this had little effect on the vast hordes that came and went, and continued to come in the years that followed. .......….
Castle Oliver, the old Trench home in Ireland of 58 bedrooms so difficult to sell. ...........
'The Molo Hunt was firmly established when we arrived in 1931 with Gerry Alexander as its most enthusiastic first M.F.H. The hounds came originally from the Beaufort and the Buccleuch packs, and right from the beginning they settled down in Molo well, and gave great sport. Later, Walter Trench imported from Thady Ryan in Ireland some Scarteen Black and Tan bitches and a dog with the idea of hunting them with the existing hounds as one pack. This turned out to be unworkable, as the Black and Tans proved to be too fast for the English foxhound, and despite the glorious music that they brought to the Hunt, eventually they had to be put down.'
Red 22 also has W.F.D. Trench, Mau Summit
Pioneers - Molo & Turi - In 1936 Walter Trench returned from a holiday in Ireland with a stallion hound, Hermit, and two brood bitches from the Scarteen Hunt. Walter Trench and Jim Ryan built kennels at the former's farm and started to breed the 'Black-and-Tans'.
Browne - Walter Trench spent much of his life in Kenya, which he came to regard as his home. He moved there shortly after the First World War, settling on a smallholding. He returned to Ireland in 1921 to marry Norah, who went back to Kenya with him. Their first 2 children were born at the smallholding. According to their youngest daughter, also Norah, her mother used to joke that their father had the medical dictionary in one hand while delivering the babies with the other. Soon after, they moved to Tamoyetta, a small house on 8,000 acres, where their other 2 children were born. Norah was the only one to be born in a hospital.
The farm was a mix of wheat, sheep and cattle. Walter became active in politics for a time, and was Chairman of the Kenya Farmers Association. The Kenya Government reclaimed the farm in the early 1970s and the British Government paid compensation to the surviving children, Norah and Olga.
When his father, William Cosby Trench died in 1944, Walter returned to Ireland with the intention of selling Castle Oliver. Instead he became deeply involved and tried to resurrect the farm but only managed to become very heavily in debt to the bank. As well as trying pig farming he dabbled in a few race-horses as yearlings, with little success. He preferred to spend autumn and winter in kenya, and so employed Lt.Col. A.C. 'Alec' Smith and his wife Pamela ….. To manage the farm. He converted the West Wing to a self-contained 'managers flat' for them. A photograph of about 1956 shows the stonework of the St Patrick window to be conspicuously cleaner than the rest of the building. Walter Trench was obviously proud of it. After the death of his wife in 1958, (Norah committed suicide by shooting herself, distraught at the brutal death of her sister and brother-in-law at the hands of the Mau Mau, and heartbroken by her husband's infidelity), he spent an increasing amount of time in Ireland. During Walter's time Hunt Balls were held at the castle, especially those of the Scarteen Hunt. These are remembered in the book 'My privileged Life', by Master of Foxhounds Thady Ryan, a close neighbour.
In 1960 Walter Trench died very suddenly of a heart attack, only 6 weeks after marrying Gwendoline (Lynn) Turner, his second wife. Castle Oliver was left to Walter's daughters, who didn't wish to keep the place. They proposed letting the bank have it, but Mrs Trench did not want to let down the mostly local people to whom Walter owed money. She was an executor of his will (which apparently ran to 60 pages) and was left in charge to sort things out.
Last Chance - One of the most successful wheat and pyrethrum farmers and was Chairman of the Pyrethrum Board. Director of KFA in 30's
Gazette 29 Jan 1963 probate