View entry
Name: TWEEDIE, Hugo Douglas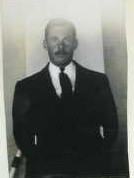 Birth Date: 12 Nov 1910 North Berwick, East Lothian
Death Date: 8 Apr 1945 Germany, killed in action
First Date: 1938
Profession: KAR
Married: In Nairobi 28 Feb 1942 Hon. Moyra Eileen Montague-Douglas-Scott b. 15 Mar 1919 Chelsea, d. 4 Jan 2011 London (dau. of Lord Francis George Montagu-Douglas-Scott) (she m. 1947 David de Crespigny Smiley 1916-2009)
Children: Gavin Hugo (2 Aug 1944 Nairobi); Anna Bridget Eileen (McFerran, div. 1986) (18 Dec 1942 Nairobi)
Book Reference: Golf, Njoro, mini-Sitrep XXXII, Peerage
War Service: KAR, Scots Guards
General Information:
Njoro - The Ronald Marshall Cup 1938 - H. Tweedie
mini-Sitrep XXXII - Hugo D. Tweedie, Major, Scots Guards, formerly KAR. Killed in Germany April 1945
Peerage - Major Hugo Douglas Tweedie was the son of John Tweedie. He married Moyra Eileen Montagu Douglas Scott, daughter of Lt.-Col. Lord Sir Francis George Montagu Douglas Scott and Lady Eileen Nina Evelyn Sibell Elliot-Murray-Kynynmound, on 28 February 1942. He died on 8 April 1945 at Western Europe, killed in action.
Major Hugo Douglas Tweedie gained the rank of Major in the service of the Scots Guards. He fought in the Second World War. Children of Major Hugo Douglas Tweedie and Moyra Eileen Montagu Douglas Scott * Anna Bridget Eileen Tweedie+1 b. 18 Dec 1942 * Major Gavin Hugo Tweedie+1 b. 2 Aug 1944
First played in the EA Amateur Golf Championship in 1938. Winner of the Ronald Marshall Golf Competition at Njoro in 1938