View entry
Name: NETTLEFOLD, Frederick John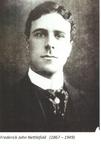 Birth Date: 16 Oct 1867 Hastings
Death Date: 25 Nov 1949 Nutley, Sussex
First Date: 1919
Profession: Heir to a nuts and bolts fortune, a Kenya settler who had once trained steeplechasers in England.
Married: 1. In Brighton 1907 Mrs Ellen Maud Redgrave née Pratt b. 1871 Buckland Monachorum, Devon, d. 21 Mar 1922 Paddington 2. 1922 Lucy Eleanor Louisa Atcherley (1898-1985) (div. 1924) 3. 1925 - Mrs Johanna Veronique Waterston Daneel née Graaff (div. 1945) b. 26 Sep 1891 Cape Town
Children: Frederick (18 Oct 1927 Pancras-30 Nov 2003 Harare); Mary April (Jackson) (1926); Dorothy Anne (Balean) (1931)
Book Reference: Markham, Hut, Pioneers, Thruston, Burke
School: Eastbourne College, Corpus Christi College Oxford and Heidelberg and Berlin Univs.
General Information:
Pioneers - Kiambu - Sir Northrup McMillan - Sir Northrup sold the estate in 1919 to Mr F.N. Nettlefold, a wealthy Englishman, and went to live at Donyo Sabuk House …………
Thurston - Unofficial Records - British Museum Eth Docs /26 - 1938-39 - Letter from F.J. Nettlefold in London about stone lions dug up on his farm (formerly owned by Sir N. Macmillan) ..... they were taken from the gate of an Indian mosque and buried on the Macmillan estate after an incident with Theodore Roosevelt's son.
Burke - of Chelwood Vachery, Nutley, Sussex, 1 Cambridge Gate, Regent's Park and Juja House, Ruiru, Kenya. Master of the Leathersellers' Company 1936-37, chm Samuel Courtauld and Co 1910-13, and Courtaulds Ltd 1913-27
Hut has F.N. Nettlefold 1919 bought Juja Estate