View entry
Name: TWINING, Sir Edward Francis GCMG, MBE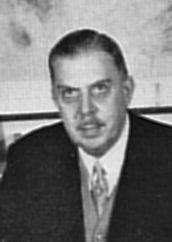 Nee: son of William Henry Greaves Twining from Twinings tea family
Birth Date: 29 June 1899 Westminster, London
Death Date: 21 June 1967 Westminster, London
First Date: 1929
Profession: Governor and Commander in Chief Tanganyika 1949-1958. Joined Colonial Admin. Service in Uganda 1929; Dep. Dir. Labour Mauritius 1939; Dir. Labour Mauritius 1939-43; Administrator St. Lucia 1941-46. Gov. & C. In C. N. Borneo 1946-49; Kt. St. J. 1950
Area: Dar es Salaam
Married: In London 21 July 1928 Helen Mary de Buisson OBE, MRCS, DPH (a C.St.J.) b. 1896 Farnham, d. 7 Nov 1975 Nairobi
Children: John Peter (8 June 1929 Paddington-2015); Lawrence (1934)
Book Reference: Who's Who, Debrett, Colonial, Rhodesia, Uganda Staff
War Service: Comm. Worcestershire Regt. 1918, KAR 1923-28, Retired 1930
School: Lancing College and RMC Sandhurst
General Information:
Debrett - was Assist. Dist. Officer Uganda 1929-39, Dep. Director of Labour, Mauritius Feb. to Nov. 1939 and Director 1939-43; appointed Administrator of St. Lucia 1944, Acting Gov. Windward Islands 1946, and Gov. and Com.-in-Ch. of N. Borneo 1947 and of Tanganyika 1949; served in Worcestershire Regt. 1918-29 (seconded to 4th KAR 1923-28); is a K.St.J.
Rhodesia - has been Governor of Tanganyika since 1949. From Lancing College he went to the Royal Military College, Sandhurst, and was then commissioned in the Worcestershire Regiment in 1918. Five years later he was seconded to the King's African Rifles, and in 1929 he joined the Colonial Administrative Service in Uganda. In 1939 he went to Mauritius as Deputy Director of Labour, shortly afterwards becoming Director, and continuing in the appointment until he was made Administrator of St. Lucia in 1944. Two years later he went to North Borneo as Governor.