View entry
Name: NOON, Alexander Mortimer Thomas Begbie DFC, AFC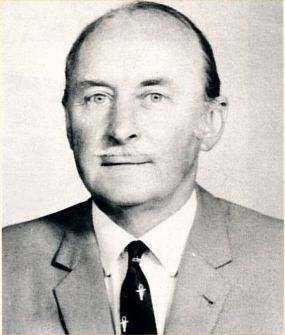 Nee: son of Thomas Begbie and Eva later Mrs Noon and stepson of John Henry Smalley Noon
Birth Date: 14 Aug 1910 New Malden, Surrey
Death Date: 9 June 1982 Nairobi
First Date: 1912
Profession: Managing Director, Messrs. Noon and Pearce, Airspray Co. Nairobi. Dir. Nyali Beach Hotel Ltd., Aerowork (EA) Ltd., and Marine Hotel (Mt. Wara) Ltd., Started Noon and Pearce Air Charters in 1947 with 1 aircraft - 12 in 1955
Area: Nairobi
Married: 14 Dec 1939 Eva Nancy Lina Brown(e) b. 17 Mar 1912 Kingston, Jamaica, d. 22 June 1990 Nanyuki
Children: Christopher Alexander; Vanessa; James Edward (25 Aug 1948 Nairobi-1991); Judith Eva; Nancy Lina
Book Reference: Gillett, Who's Who, Barnes, Fleming, Aero, Who's Who 63, Campling
War Service: Served with RAF during WW2
School: Canford School, Wimborne
General Information:
Barnes - Early player for Muthaiga Rugby Club - 1930s
Fleming - I then met Alec Noon (Squadron-Leader) whom I had taught to fly in 1935 when he was manager of the Salisbury Hotel, Nairobi. He had later taken up flying as a career and had been a pilot with Wilson Airways (Kenya). He did very well in the War and had the DFC and AFC by 1944
Aero - Born in Surrey, England on 14th August 1910, Alec Noon, or, more correctly, Alexander Mortimer Thomas Begbie Noon is now a semi-retired man after over 40 years of flying in Kenya. It was in 1933 that he went flying for the first time, with none less a personality than the famous Tom Campbell Black of Wilson Airways who the following year came first in the London-Melbourne Air Race. After a long and exhausting day of taking up many people on sedate joy flips round the airfield who wanted to know for themselves "what this flying thing was all about," with the young Alec as his last passenger of the day Campbell Black "went absolutely haywire" and put the de Havilland Gipsy Moth through all her paces.
Alec was completely "sold". Two years later he himself learned to fly, although his lessons were "on the quiet". His mother and stepfather wanted him to continue coffee farming at their Mchana estates at Ruiru. Mchana can be interpreted in Swahili as noon, and is the name of the Main Bar at Nyali Beach Hotel Mombasa.
Nyali Beach Hotel was built by Harry and Eva Noon and run as a family affair until its sale to Block Hotels in 1972. Alec was chairman of the hotel at the time of changing hands. It was when Eva Noon, his mother, found a bill in the post for £25 addressed to J.H. Noon (Alec's stepfather) for Alec's flying lessons that the cat was properly out of the bag, though even from his public school Canford, in England, Alec had written that he wanted to join the RAF.
When she realised his determination, she and his stepfather told him to go ahead and get his certificates. He was 25 years old when he got his Private Pilot's Licence (No. 40) through the Aero Club of East Africa. By 1936 he had obtained his Kenya "B" Commercial Licence (No. 25) and joined Wilson Airways, the country's first regular airline. He flew with them until the Second World War, when Wilson Airways was taken over by the RAF, and the ex-Wilson Pilots in their de Havilland Rapides, Leopard Moths, Vega Gulls and D.H. Puss Moths were sent off scouring the Indian Ocean for submarines they never found. When East Africa was thoroughly in the War with the Abyssinian campaign, Alec Noon and his companions were in the dash with General Cunningham through Mogadishu, Dire Dawa, Addis Ababa and Asmara, supporting communications and supplies.
Then Alec was transferred to the Middle East Command, centred on Cairo and operating from Heliopolis airfield. He and his colleagues formed a valuable nucleus of pilots with experience of flying over Africa and were used mainly for transport operations with emphasis on VIP's. Alec became the personal pilot of Air Chief Marshal Sir Arthur Tedder, then commanding Air Forces in the Middle East flying the powerful and fast Boston aircraft. On one memorable day in 1942 his log book recorded passengers in his Lockheed Lodestar; Mr Winston Churchill, General Alexander and Sir Arthur Tedder, on an air inspection of Canal Zone defences. "Too many eggs in one basket at that stage of the War," Alec reminisces.
Night after night Alec flew Dakotas with supplies for Malta, "invaders" for Sicily, partisans for Poland and Yugoslavia, and supplies to Cairo that couldn't get through by sea. For unarmed transport, the flying had to be by night, mainly carrying arms, ammunition and torpedoes. The job was enlivened by occasionally being chased by M.E. 109 night fighters, or stooging around outside Malta waiting for the current battle to quieten down to enable him to alnd. For this part in supply operations he was awarded the AFC. …………
With the invasion of Europe underway, ten Dakotas under Alec Noon's command and based at El Aouina, Tunisia, were assigned to drop dummy parachutists on the western end of Sicily. The dummies were fitted with rockets and squibs which went off on contact with the ground. The Germans withdrew large numbers of troops from the east of the island to meet this "parachute invasion" in the west, when the real invasion was successfully conducted on the side from which they had moved. For Alec's part in this operation there was an immediate award of the DFC.
In 1945 he was posted to Bilbeis north of Cairo after being based at Bari on the Adriatic, where the main operations were supply dropping and landing by night behind the enemy lines. His new posting was as Transport Captain on a check and conversion course for RAF pilots of single-engine or small twin-engine aircraft who were to take over bigger transport planes. Then, from Cairo, with colleagues Soltau, Francombe, Lavers, Pearce, Kirkham and Kuhle he was seconded to help start East African Airways under the management of the late Philip Johnson, a post he resigned in mid-1946 to start Alec Noon's Air Charters with one small DH Moth Minor which carried a single passenger.
Noon and Pearce Air Charters was formed with his old friend and colleague Stan Pearce in 1947. After 7 months, Airwork London (later BUA) acquired an interest (but not controlling) in the growing firm which now had half a dozen aircraft. Soon there were 12 including Beechcraft Bonanzas, DH Rapides, Miles Geminis, Ansons, Austers and a hired Tri-Pacer.
From transporting 8 to 10 passengers a day in 1948, by 1955 it was in excess of 30. From time to time certain aircraft were fitted with stretchers and flew to Nairobi with injured and critically sick persons mainly under the direction of Michael Wood who now so successfully controls the Flying Doctor Service. …………..
In 1955 the company abandoned air charter work for aerial crop spraying and dusting to become known as Airspray (EA) Ltd. Airspray (EA) Ltd. Was the first ever to undertake this nature of aerial work in East Africa and was faced with the training of crop spraying pilots which calls for experience not only in precision flying at low level but also a knowledge in botany, entomology and chemistry. …………
Alec Noon, feeling that he had spent sufficient time "in the air", sold his aviation interests in 1970 and now lives alongside the 17th fairway of Karen golf course where he plays 18 holes almost every day of the week off a handicap of 10. Most evenings are spent at the 19th talking more golf than aviation - nevertheless aviation talk arises from time to time as his 2 sons, Christopher and James followed in father's footsteps and are both ardent flyers.
Who's Who 63 - Asst. Manager Coffee Plantation 1928-31; Secretary Salisbury Hotel 1931-34; Commercial Pilot Wilson Airways 1934-39; seconded from RAF to EAA to open up routes in 1946; Director Nyali Beach Hotel
Campling - Alec Noon had joined the KAAU, along with other Wilson Airways personnel, at the outset of the war and then transferred to the RAF. He first arrived in BEA as a 4-year-old at the beginning of WW1 together with his sister Molly and his mother, Mrs Bagley [sic], who was coming out to join his father. However, they arrived to be confronted with the news of Mr Bagley's death, borne by Harry Noon (who later married Mrs Bagley and adopted her 2 children). ……… Alec learnt to fly in a Klemm and later joined Wilson Airways where he met his future wife, Nancy Brown, who was the Company's secretary. Flying came easily to him, as he had an intuitive feeling for aircraft and the air, and he was probably one of the best pilots of his day.
Gazette - Voters List 1936 - Alexander Mortimer Thomas Noon, Salisbury Hotel, Nbi.
Gazette 3 Sep 1982 probate