View entry
Name: AYLMER, Leycester (Capt.)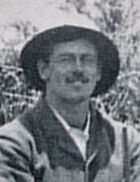 Nee: son of Col & Mrs Aylmer, Risby Manor, Saxham, Suffolk
Birth Date: 29 Mar 1882 York
Death Date: 1.5.1913 killed in action by Abyssinians at Moyale, where he was buried
Nationality: British
First Date: 1905
Last Date: 1913
Profession: Officer in the 3/KAR, EA Command, 1905. In Stephen Ellis's ledger Oct. 1908
Area: Moyale, EAHB 1906 Kismayu
Book Reference: Gillett, SE, HBEA, Moyse, Lillibullero, Havash, Hut, Drumkey, EAHB 1906, North, EAHB 1907, All Saints, Gazette
War Service: 3 KAR EA Command 1905. 60th King's Royal Rifles
General Information:
SE - Capt. L. Aylmer - 3rd KAR - Oct 1908-Sept 1910
Moyse - 1909 - set up a well sited frontier post on the escarpment at Moyale, known at first as Fort Harrington. ......... A station was opened at Wajir in Jan 1912. ...... Capt. Aylmer had left the KAR and was political officer with the Garre. On May 13th Aylmer was on the way to Moyale and came across 13 Abyssinians who refused to surrender. Aylmer was shot through the right breast and killed.
Lillibullero - Moyale - 1933 - In an open space there was a stone testifying that there lay Leycester Aylmer, of the 60th King's Royal Rifles, who had been killed in action against the Abyssinians on the 1st May 1913; and it was added that he died doing his duty.
Havash - 1910 - About this time Capt. Aylmer, who was afterwards killed by Abyssinian raiders, passed through on his way to the frontier. An experienced African traveller, he seemed top me to be the incarnation of a pioneer frontiersman. ........... Stigand, Aylmer and Mr Corfield all killed in the act of defending tribes under the protection of the Union Jack from hostile raiders.
Drumkey 1909 - 3rd KAR, Nairobi
EAHB 1906 - South African War, 1901-02, Operations in Orange River Colony, January to May 31, 02. Queens medal with 3 clasps. Subaltern in 3rd KAR February 24th 1905.
EAHB 1907 - L.S. Aylmer, Nairobi
Gazette 15/7/1913 - Obituary - His Excellency the Governor deeply regrets to announce that further intelligence has been received confirming the report of the death of Captain Aylmer, Special Service Officer, Northern Frontier District on May 1st last at the hands of a party of Tigre elephant hunters whom he was endeavouring in the execution of his duty to arrest. Captain Aylmer joined the 3rd Battalion KAR in February 1905, and was transferred in 1911 to the post he held at the time of his death. He was a most capable and gallant Officer, admirably fitted for outpost duties and exceedingly popular among his colleagues on the frontier, where his place will be difficult to fill.
HBEA 1912 - Special Service Officer - Moyale