View entry
Name: AYRE, Aulbert Fitzpatrick 'Pat'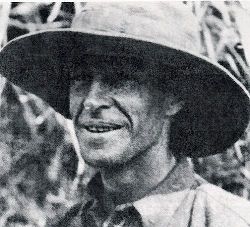 Nee: brother of Herbert St. John Brabazon Ayre
Birth Date: 8.3.1886 Pietermaritzburg
Death Date: 9 Jan 1975 Umzumwe, Natal, S. Africa (Hut has 1960?)
First Date: 1906
Last Date: 1965 ?
Profession: Known throughout EA as 'Pat', he was a sawmiller, farmer and professional hunter, in which capacity he accompanied the Duke and Duchess of York on their honeymoon safari in the NFD. He also farmed a large cattle & sheep estate at Nanyuki
Area: Nanyuki, 1925 Saw Mills, Meru, 1908 Molo, 1909 Abadare Est. Naivasha, Hut 1906 Farm 905, Moyo Estate
Married: In Kenya 17 Feb 1928 Joan Stonehouse b. 2 Sep 1899 Guisborough, Yorkshire
Children: None
Book Reference: Gillett, EAWL, Police, Foster, Ker, Safari Trail, Nimrod, Jack Wright, Carson, Rundgren, Stoneham Wanderings, Breath, KAD, Red 25, Red 31, Hut, Drumkey, Red 22, Land, Campling, Chandler, A. Allen, Red Book 1912
General Information:
Gazette 6 Dec 1938 Aberdare Voters List
'A white hunter who took the Queen Mum out on safari with George VI when they were Duke and Duchess of York, were entertained at Buckingham Palace and introduced to the Royal Doctor for an ailment of Pat's. Joan, Pat's wife received a beautiful and simple letter of condolence when Pat died suddenly. He was game to the end and took a speed boat out from the shore frequently, a hazardous task. Pat learned to fly when he was 70 and got his Pilot's Licence. Joan, one of the best shots in Kenya an intrepid character when on safari was totally domesticated - her girdle scones sought after - When she wasn't on safari, or cooking when you called she was to be seen doing intricate patchwork.' Source:- Mrs Connie Whitfield.
Police - On June 20th, 1940, Marsabit was bombed by three Italian Caproni aircraft, 16 medium weight bombs being dropped from a great height. The main target was the airstrip. The only casualties were two KAR, who received slight wounds. An Intelligence Officer, A.F. "Pat" Ayre of Nanyuki, photographed the bombing raid while it was in progress. His photos showed 6 or more bombs bursting on the airstrip. 'Pat Ayre was certainly one of Kenya's "characters" and had a lovely sense of humour. For example when showing me his growing oats he said that he was in danger of getting a good crop that year. His farm was more of a ranch really, a cattle ranch and he bred a few horses in a haphazard way but was very knowledgeable at the same time. His fairly large farm was at the foot of the Loldaiga Hills and seemed to stretch for about 3 miles to touch our farm that ran along the Nanyuki/Isiolo/Meru road. I bought a really good mare, untried and unbacked from Pat but she sadly died after her first outing and win. Pat did race his horses, he wasn't interested in competition of any sort ........ He and another neighbour Jack Lucy were pioneers in the big game hunting & took out many well known people ....the Queen Mum and George VI. They were both very taken with Pat and recommended their doctor for some ailment with an invitation to visit them! The fact that Pat was selected to take such important personages as the Duke and Duchess of York on safari shows what his reputation was ..... Joan came from England and had never been to Africa until she married Pat. They spent their honeymoon on safari! And it was pretty rough and ready in those far off days. Joan rose to the occasion and being thrown in at the deep end and often went on safari managing the comfort of clients I expect. She had a deadly aim with a gun and became the best female "shot" in Kenya. They had no children. Joan was an expert needlewoman and her griddle scones were famous. Pat, at the age of 70, took up flying and got his Pilot's licence. In about 1965, I suppose, they moved down to SA and had a house on the coast near Port Shepstone where Pat bought a boat. ........ ' Extract from a letter from Mrs Connie Whitfield, Oct 1995.
Foster - 'A.F. (Pat) Ayre - Farm 905 - was one of the local applicants [for a soldier settler farm] Like many early settlers he had a number of interests other than just his farm. He ran (and owned?) a saw mill at Meru and another one on the Loldaiga Hills. The timber from this mill was used by Will Powys to build his permanent house - which is still the family home - on Kisima Farm (Plot 912). Later, when the Duke and Duchess of York visited Kenya on their honeymoon in 1927, Ayre acted as hunter for their safari. He died in S. Africa in the 1960s.
Ker - An early professional hunter - many years later he escorted the late King George VI and the Queen on their hunting safari. I think both Phil Percival and Pat Ayre, who are recognised as the two most famous professionals, have had as long a run as any white hunter, for they only retired from the hunting field 6 or 7 years ago. [1957]
Safari Trail - Meeting of Professional Hunters' Association in Duke of Aosta's stables in Addis Ababa in 1942 - Philip Percival, as President in the Chair, Pat Ayre, Vivian Ward, Syd Downey, Donald Ker, "Pip" Beverley, T. Murray Smith
Letter from Jack Wright - Pat, in his heyday was one of the best White Hunters in Africa ........ He owned the ranch which is now owned by Thrane, before he sold his farm at the age of 76. He had a yearning to fly, so he made regular visits to Wilson Airport - he carried on with regular flying lessons and finally he took his test and passed. Now Pat was a very sprightly man for his age and had straight black hair, not one grey hair could be seen. When he went in the air instructor's office to pay his dues and to collect his Pilots Licence they asked his age. When he told them, they informed him that they were not allowed by law to issue a licence to a person of that age, so Pat begged one favour from his instructor, he begged to be allowed to have one final solo flight, to fly twice round his farm house to prove to his wife that he could really fly an aeroplane. This wish was granted and he did exactly that. Not long after that he sold out and moved to S. Africa, they had no children. Pat was also a very keen fisherman. He owned his own boat at Nyali and did at one time hold several records on big game fishing. He and his wife died about 5 years ago [1989] down in S. Africa.
Carson - Lake Rudolf, Loyangalani - met Vivyan Ward, Capt. Ritchie, the Game Warden and Dr. Hassan. A long form lay stretched on a bed seemingly asleep, and this, I was informed, was Pat Ayre. Other members of this very high-powered reconnaisance party, which had come from Marsabit to vary the boundaries of the then Northern Game Reserve, included George Adamson and Mervyn Cowie. ........ Vivyan Ward was master of ceremonies and most successfully did he feed us all with a varied and full menu. ....….
Rundgren - When Rundgren was in Game Dept. at Kampia Simba - message from Pat Ayre, the white hunter, who had retired from active hunting and was farming at Burungai. A lion had taken to killing on Ayre's place, and, after 3 weeks of trying to get it himself, he had decided it was time he sent for Rundgren. Ayre had bounced him as a toddler on his knee, so when he called it was natural that Rundgren should drop everything and answer. Ayre had an extensive ranch, and watered his herds from troughs filled by pumps from some 20 boreholes.
Breath - Elephants sleeping stretched out flat on their side on the ground .......... A.F. ('Pat') Ayre of Nanyuki, one of the 3 foremost white hunters of the past half century in Kenya, was twice able to secure a photograph of elephants sleeping on the ground during his more than 50 years professional hunting.
Land - 1908 - A.F. Ayre - Grazing, 5020 acres, Kinan Gop, 5-6-05, Registered 13-7-08
Campling - 1930 - Account of a safari to the NFD with clients the Baron and Baroness von Buxhofenden ……… 1960s - Over 30 years later Pat, now an old man, came to Keith's [ampling] flying school in Nairobi to learn to fly, as he reckoned that he had done most things in his life but he had never flown an aeroplane. So he took his lessons and learnt to fly, after which he did one solo flight, and although it had cost him a bit he considered it worth every cent, so now he had proved that he could do it he had no need to fly again. The old man was quite delighted with himself ………. Pat lived to a ripe old age. Some years after he had learnt to fly he was found to have cancer and he went to South Africa for treatment where he died in Durban's Addington Hospital - the death of a legend!
A. Allen - A. Fitzpatrick "Pat" Ayre, one of Kenya's most famous White Hunters served as Intelligence Officer with the Kenya Police in the opening stages of WW2. Ayre is not listed in the history of the EAMR by Wilson presumably the Nominal Roll was compiled before Ayre and other late enlistments.
Red Book 1912 - A.F.P. Ayre - Naivasha
Rodwell - "Alexander Frederick Ayre was known as 'Pat'. He worked as a farmer's apprentice for 4 years and then chucked the job and travelled up to Uganda where he hunted elephant. This was his life - he took out his first client in 1910.
But he took on other jobs. In 1914 he was down on the Tanganyika border trading ngombes when he heard that the Great War had broken out. Like all the others he got back to Nairobi with a pony and rifle and enrolled with the East African Mounted Rifles.
This was one of the rare times that Ayre's health failed him. He was invalided out of the forces.
With his brother he started a saw mill at Meru and with the proceeds soon put down the first payment against the 30,000-acre ranch, Lol Daika, at Nanyuki.
At the end of the war Pat took up his former profession as a hunter and before long had gained a reputation as one of the best of a good bunch. It was this reputation plus the fact that not one of his clients had suffered injury that made him a natural choice when the safari of the Duke and Duchess of York was planned for 1925.
At Christmas of that year Pat and Gordon Anderson pitched a camp at Isiolo. The Duke and Duchess (later King George VI and Queen Elizabeth) arrived in a box-body car accompanied by Colin Buist, Admiral Basil Brooke, Keith Caldwell, the acting Game Warden and Dr. J.L. Gilks.
Hunting took place around Isiolo and Shaffadinka. When the safari was over the Duke noticing that Pat did not use a camera presented him with an album of photographs.
Pat and his wife Joan met up again with the Queen, now the Queen Mother, when she came to Kenya in 1958.
In 1939 Pat Ayre again joined the forces and became a military intelligence officer working in the NFD. He served throughout the Ethiopian campaigns as Liaison Officer with the 4th South African Field Artillery.
Apart from a few safaris taken after the last war Pat devoted himself to his farm which was soon running 2,000 cattle and the same number of sheep.
In 1957 he made the memorable voyage to lake Rudolf South Island in his skiboat Hornblower where he, George Webb and others found traces of the ill-fated expedition of 1934 when 2 scientists disappeared on the island during the time when Dr Fuchs of South Pole fame was investigating the lake area. I knew Pat and Joan well. They had a house …….
Gazette - 11/3/1930 - National Bank of India, Kisumu - Unclaimed balance for over 10 years - A.F. Ayre
Gazette - 26/9/1923 - Voters Register - Kenya Province - Aulbert Fitzpatrick Ayre, Saw Miller PO Meru