View entry
Name: O'BRIEN, Adrian Helyar Knapp (Major)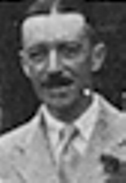 Birth Date: 26 Jan 1880 Teignmouth, Devon
Death Date: 9 June 1927 Lumbwa
First Date: 1909
Last Date: 1927
Profession: Planter, established a farm at Lumbwa. Served in the Bays and on Staff in SA, 1899-1902, N. Nigeria 1904-05, with EA Rifles, 1914-19 and with the RFC and RAF
Area: Lumbwa, HBEA 1912 Nairobi, 1922 - Lumbwa, 1925 Farm 1441, 'Mtaragon', Lumbwa
Married: In Kensington 1915 Monica Gwendolyn Mary Underhill b. 1892 Wandsworth, London, d. 9 Dec 1949 Nairobi
Children: Anthony Trevor Knapp (16 Aug 1914 Nakuru-1975); Patricia Monica (d. 10.11.1992 Taunton); Terence Patrick (d. 18.4.1945 Dar es Salaam); J. H. (1917)
Book Reference: Gillett, HBEA, KAD, Red 25, Hut, EAMR, Red 22, Web, Gazette, Barnes, Leader14, Air, Red Book 1912
War Service: Queen's Bays and RAF; EAMR - A Sqdn. 7/8/14 - Capt. 11/8/14; To RFC
School: Prior Park, Bath
General Information:
Red 25 - Served in the Bays and on staff in SA 1899-1902; Northern Nigeria 1904-05; War 1914-19 with EA Rifles, RFC and RAF
Red 22 - Justice of the Peace - Fort Ternan and Lumbwa
Red 22 - Honorary Permit Issuer - Major A.K. O'Brien, Mataragon Farm, Lumbwa
Web - Commanded "A" squadron of EAMR. They were armed with lances as well as their hunting rifles. Named 'Lady Monica's Own' after the Governor's daughter. Despite much practice the squadron never attained a high level of proficiency with their lances and they were discarded "to the sorrow of the Squadron Commander, but to the relief and safety of the troopers".
Gazette - 26/8/1914 - Appt. - Captain A.K.H. O'Brien, Volunteer Forces, East Africa Mounted Rifles, to be Captain, to date August 11th 1914
Barnes - Nairobi City Park Cemetery - Monica O'Brien, died 9 Dec 1949 aged 57
Air - Royal Aero Club Aviator's Certificate No. 1264 dated 22 May 1915 - Maurice Farman Biplane, British Flying School, Le Crotoy, France
Red Book 1912 - A.K. O'Brien - Nairobi
Red Book 1912 - Hon Secretary - Nairobi Polo Club - Capt. O'Brien
Red 25 - Honorary Permit Issuer. Red 25 - JP, Fort Ternan & Lumbwa
Gazette - 6/12/1927 - Probate and Administration - Major Adrian Helyar Knapp O'Brien late of Lumbwa who died at Lumbwa on 9 June 1927. Applied for by Mrs Monica O'Brien of Lumbwa
Gazette - 12/11/1919 - Register of Voters - Lake Area - Adrian Unopp O'Brien - Missionary - Lumbwa
Blue Book 1911 1st appt 27 Aug 1909