View entry
Name: ORR, James Russell OBE BA (Oxon)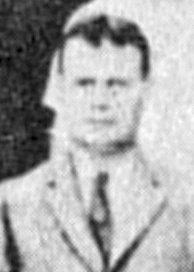 Birth Date: 9 Sep 1877 Dum Dum, India
Death Date: 4 Jan 1953 London
First Date: 1911 - previously on staff of Dulwich College and Westminster School
Profession: Became Director of Education, EAP, a position he held for over 15 years. HBEA 1912 - Dir. of Education, KAD 1922 - Dir. of Education. Red 25 - Vice-President, Kenya Boy Scouts Association
Area: Nairobi
Married: Joan Margaret Raikes Bromage (div.1931) d. 17 Mar 1968 Ditchling
Children: Peter Robert Stonor (d. 1918); Pamela; Samuel
Book Reference: Gillett, HBEA, Tignor, KAD, Red 25, EA & Rhodesia, Red 22, Gazette, Barnes, Leader14, Foster, Red Book 1912, Red 19
School: Dulwich College and Merton College, B.A. (Oxon)
General Information:
Red 25 - Assistant Master at Dulwich College and Westminster School, Dean's Yard
East Africa & Rhodesia - 15/1/53 - Mr James Russell Orr, OBE, Director of Education in Kenya from 1911 to 1928, has died in this country. He was educated at Dulwich College and Merton College Oxford, and became a master at his old school and later at Westminster School. During his service in Kenya he was a member of the Legislative and Executive Councils, and he served on Nairobi Municipal Council. Among his publications were "Religion and Education" and "The Life we Might be Living" a book on financial reform.
Gazette - 7/4/15 - Liable for Jury service, Nairobi District - R.J. Orr, Education Dept.
Barnes - Nairobi South Cemetery - Peter Robert Stonor Orr, died 24 Mar 1918, child of J.R. Orr, Dir of Education
Red Book 1912 - J.R. Orr - Nairobi
Red Book 1912 - Education Dept. - Director of Education - J.R. Orr
Gazette - 12/11/1919 - Register of Voters - Nairobi, South Area - James Russell Orr - Director of Education - The Hill
Red Book 1919 - Education Dept. - Director od Education
Red Book 1919 - Caledonian Society of BEA - Secretary - J.R. Orr
Gazette - 18/6/1924 - Honours - Order of the British Empire - Hon. Mr J R Orr, to be an Officer (Civil Division)