View entry
Name: APPLEBY, Leonora Louise 'Lee', Miss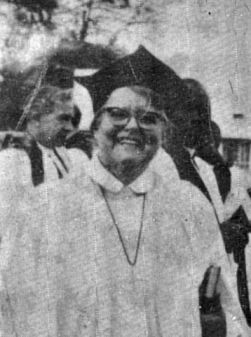 First Date: 1931
Profession: CMS Butere, Translator
Area: Kisumu
Book Reference: Hut, Foster, Rabai
General Information:
Foster - Deaconess - A full CMS Missionary from Australia. Ki Luhya translator from CMS Australia due retirement 1960, wrote first Ki-Luhya Grammar, based at Butere. Retired in 1960.
Rabai - Deaconess Appleby gives a graphic account of the problems of girls' schools. When she arrived at Butere in 1931 the girls' school was an "extra" supervised by the missionary nurse Miss Maud Pethybridge (Bahoya) who already had her hands full with the dispensary.