View entry
Name: ARONSON, John Cecil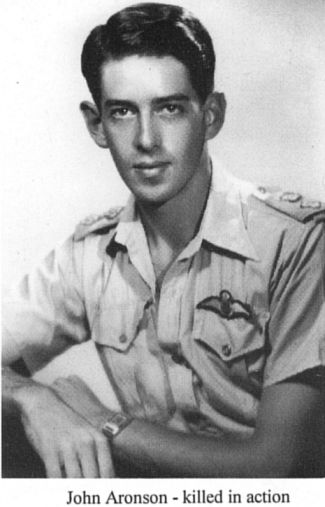 Nee: son of Joseph Gustave Aronson
Birth Date: 28 Dec 1921
Death Date: killed in action over Anzio 6 Mar 1944
First Date: 1923
Profession: Became a director of Kenya Breweries on the death of George Hurst in 1923. His death in 1944 was a grievous loss to EA Breweries. He rendered most valuable service throughout the life of the company.
Married: No
Book Reference: Pembroke, Brewery, Gazette
War Service: S. African Air Force
School: Pembroke House and Charterhouse
General Information:
Pembroke - 'The first Pembrokian killed in action was John Aronson who had gone from Pembroke to Charterhouse. He … was an RAF pilot. (Photo in Pembroke)
Pembroke No. 47, 1929, Box 681, Nairobi.
Gazette 4 July 1944 probate required by Joseph Gustave Aronson
Buried in Malta
Michael Aronson: He was killed in action flying a Spitfire over Anzio in Italy, having joined the S African airforce. He was buried at sea.