View entry
Name: WATSON, Alexander Henderson 'Watty'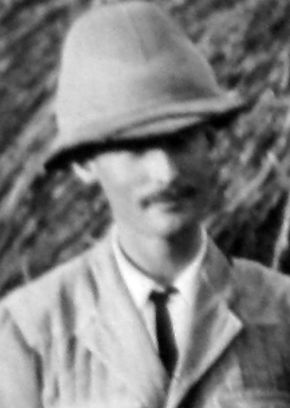 Birth Date: 12.5.1878 Cornascribe, Co. Armagh, Ireland
Death Date: 22.6.1958 Brighton
First Date: 1902
Last Date: 1923
Profession: Joined Uganda Administration, later becoming a PC but retired in 1923 owing to ill health. On long safaris to West Nile, Acholiland and tours of Bunyoro he was often accompanied by his wife; both very popular wherever they went
Area: Mbale, Uganda
Married: 1917 Evelyn Willoughby
Children: one dau.
Book Reference: Gillett, Moyse, EAHB 1905, North, EA Diary 1903, Drumkey, EA & Rhodesia, Red 22, EAHB 1906, UJ, EAHB 1904, EAHB 1907
War Service: Royal Canadian Regt, in Boer War
School: Privately & Royal Academy, Belfast
General Information:
Moyse - 1904 - Acting Collector, Bukedi district, Uganda
EAHB 1905 - Asst. Collector, Mbale, Uganda Protectorate, April 1st 1902
North - Appt. Asst. Collector UP; dep. Mombasa for Uganda 5/6/1902; Asst. Collector, Entebbe 13/8/1902; Appt. 2nd Class Magistrate 16/9/1903; Appt. 1st Class Magistrate while Asst. Collector at Entebbe 4/11/1903; Acting Supt. Telegraphs March to Nov. 1903; Appt. Asst. Collector Bukedi, Dec 1903, Mbale
EA & Rhodesia - 3/7/58 - Mr Alexander Henderson Watson, who has died in this country at the age of 80, was in the Colonial Service in Uganda for 21 years. Born in County Armagh, Ireland, he was educated at the Royal Academy, Belfast. He then joined a linen manufacturer in that city, but soon afterwards left to try his luck in Canada. On the outbreak of war in South Africa in 1899 he joined the Canadian Volunteers (Royal Canadian Regiment), and was awarded the Queen's Medal with three clasps; at the end of hostilities he was one of 100 men of the regiment sent to London to be received by Queen Victoria at Windsor.
Soon afterwards he went to Uganda, serving in various parts of the Western and Eastern Provinces and as town magistrate in Kampala until he was made Provincial Commissioner of the Northern Province. He read for the Bar and was called at Gray's Inn two years before he retired from the Colonial Service in 1923. After engaging in political and journalistic work for several years, he joined a mechanical engineering firm engaged in developing a new type of road traction for undeveloped territories, and for three or four years from 1931 he edited a trade paper. Having settled in Brighton, he was one of the first men in the town to enrol in the Local Defence Volunteers, afterwards the Home Guard, when it was raised in 1940. He had married in 1917 Evelyn, daughter of the late Edward Godfrey Willoughby; she survives him. There was one daughter of the marriage.