View entry
Name: WATSON, Thomas C. 'Tommy' (Rev.)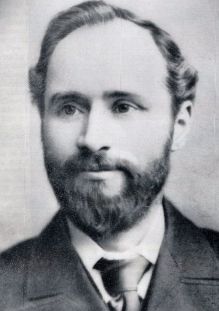 Birth Date: 12 Oct 1858 Monifieth, Forfarshire
Death Date: 4.12.1900 Kikuyu, suddenly of pneumonia
First Date: 1891
Last Date: 1900
Profession: Arrived in EA with a small band of missionaries he set off up country, his expedition halting at Kibwezi, 200 miles from the coast, where he toiled for 7 years under great difficulties. All his companions died or were withdrawn. Church of Scotland Mission
Area: Kibwezi, Kikuyu
Married: In Mombasa 18.12.1899 Mary 'Minnie' Cumming b. 3 June 1867 Dundee, d. 12.2.1949 Dundee (she carried on husband's work for over 24 years)
Book Reference: Gillett, Ainsworth, Watt, Scotland, Weller, Fitzgerald, Kenyatta, John Rawlins, Hut, North, Barnes, Chogoria
General Information:
On three occasions buildings he had erected were destroyed by fire and native population was decimated by disease & famine. In 1898 he abandoned the ill-fated Kibwezi venture and began anew at Kikuyu, but site condemned by Medical Auth. Thus for the third time Mr Watson toiled to build a mission station.
In 1899 he took his bride to Kikuyu and together they struggled heroically, overcoming many difficulties and also starting first mission school in 1900.
Scotland - The aim of the Scottish Industrial Mission was the evangelisation of the Kikuyu, the Kamba and the Masai. ...... Under the leadership of Dr Stewart of Lovedale an expedition of 7 Europeans and 273 African porters left Mombasa for Kikuyu country in mid Sept 1891. .... Halted at Kibwezi, site purchased from local people and work begun on 16th Oct. 1891 under the leadership of Thomas Watson. .... hard times - buildings destroyed by fire 3 times, death of his colleagues or withdrawal due to broken health. In 1898 Watson alone remained and on 27th August with the last of his comrades but recently buried he abandoned the ill-fated Kibwezi venture and set out to Kikuyu - arrived 11th Sept. 1898 and founded the Kikuyu Mission. He was encouraged by Mr Paterson, an agriculturist with reinforcements of a doctor and a carpenter. Watson built a cottage for his bride to which he brought her in 1899.
Watson died suddenly of pneumonia on 4th December 1900. His widow bravely carried on. She taught at Kikuyu for many years and retired to Scotland in 1935.
Weller - held on to the station at Kibwezi till he was left alone. Several men had died; Kibwezi was definitely not a good centre. In 1898 Watson abandoned Kibwezi, went to Kikuyu (Dagoretti) and, with Paterson, an agriculturist, began work afresh. ....... First school opened in 1900, by Mrs Watson.
Fitzgerald - Rev. T. Watson - Meteorological observations at Kibwezi from 1893-96 assisted by Matthew Wilson and John Paterson
Kenyatta - Mrs Watson took Charles Kasaja Stokes to Dundee for 2 years' schooling. He was the son of the famous Charles Stokes, trader and gun runner, by a Muganda woman
John Rawlins - Resumé of the life of John Paterson - extracts from Thomas Watson's letters home. ...... Watson started out as an evangelist lay missionary - a brickmaker at Kibwezi. He was the sole survivor of the original 6 and on his return on leave to Scotland circa 1897-8 he was ordained and marries his Scottish bride Mary Cumming who accompanies him back to the EA Scottish Mission moving up from Kibwezi to Kikuyu.
North - Carpenter, Kibwezi Mission; dep. Rabai for Kibwezi 13/9/1891, arr. 16/10/1891; admitted to Mombasa Hospital with eye infection 5/7/1894; Appt. Superintendent of the Mission after the disappearance of Dr. Charters in Oct 1894; Moved Mission to Kikuyu 27/8/1898; d. 4/12/1900
Barnes - Kikuyu Cemetery - Kirikano kia atigairi Thomas ne Minnie Watson aria marehire utheri wa ngai kikuyu Thomas Watson askomire 4th Dec 1900 Minnie Watson aakomire 12th Feb 1949 gukenya ni aria - In memory of T & M Watson who brought the light and knowledge of God to the Kikuyu TW laid to rest 4th Dec 1900 MW laid to rest 12 Feb 1949 happy are those who die in the Lord