View entry
Name: WEEKS, Reginald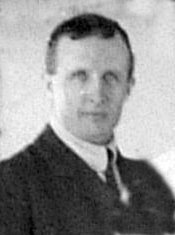 Birth Date: 17 Sep 1874 Chadderton, Lancs., bapt. 25 Oct
Death Date: 5 Aug 1959 Cheltenham
Nationality: British
First Date: 1902
Profession: Appointed Asst. Collector EAP and served at Fort Hall, Kitui, Kisumu and the Coast. DC in 1911 and then for some years was Resident Commissioner at Nakuru
Area: Fort Hall, Kitui, 1919 Kisumu, Coast, Nakuru. HBEA 1912 - DC - Lamu, 1922 Meru, 1925 Nakuru, 1918 Narok
Married: 1. Elsie Alleyne b. 8 Aug 1880 Chelsea ?2. Vivien Mary Jack [names as widow in Nat Probate Calendar]
Children: Forster Brian (1920)
Book Reference: Gillett, HBEA, Golf, Kenya Diary, White Man, EAHB 1905, KAD, Red 25, Hut, North, EA Diary 1903, Drumkey, EA & Rhodesia, Red 22, EAHB 1906, EAHB 1904, EAHB 1907, Witchmen, Leader14
School: In Germany and Switzerland
General Information:
President of Nakuru Golf Club in 1924.
Kenya Diary - Dec. 1902 - met Mr R. Weeks, a new District Officer en route for Fort Hall. We camped together.
White Man - WW1 - Officer in charge of the Masai reserve when R.W. Hemsted was on leave and an attempt was made to recruit Masai for the war ........ disastrously handled, mainly by the KAR officer ........ Delamere called in to restore relations ..…..
EAHB 1905 - Asst. Collector, EAP, April 10th 1902; Taveta, Sept. 1902; Fort Hall, Dec. 1902; Acting Collector, Kitui, June 1903; South Africa medal 1900.
KAD 1922 - District and Resident Commissioner and Resident Magistrate, Meru
Drumkey 1909 - DC Ukamba
EA & Rhodesia - 13/8/59 - Mr Reginald Weeks, lately of the Colonial Service in East Africa, has died in Cheltenham.
EAHB 1906 - Sub-Collector, Kisumu
EA Diary 1903 - Asst. Collector, EA Protectorate May 5 1902; South Africa Medal 1900
EAHB 1907 - Collector - Ravine
EAHB 1905 - Asst. Collector, Kitui
Gazette - 2/2/1921 - Appointment - Reginald Weeks to be District Commissioner, Malindi wef 12/1/1921
Gazette - 27/2/1924 - Electoral Register - Weeks, Reginald, Civil Servant, Nyeri
1939 England and Wales Register living in Cheltenham with wife Elsie, retired
Nat Probate Calendar