View entry
Name: WHITE, Arthur Allen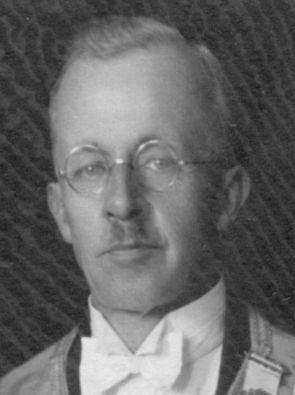 Birth Date: 1876 Corfe Mullen, Dorset, bapt. 1 Mar
Death Date: 17.5.1948 Nairobi
First Date: 1907
Profession: Pharmaceutical chemist who started his own business in Nairobi in 1911. For some time organist at All Saints' Cathedral, Nairobi
Area: Nairobi, HBEA 1912 Mombasa,
Married: In Hanwell 1 Aug 1903 Annie Maria Newland b. 1869 Kensington
Children: Philip (1905 Beaconsfield)
Book Reference: Gillett, HBEA, KAD, Red 25, Red 31, Macmillan, Red 22, Ruiru, Barnes, Gazette, Harmony
General Information:
KAD 1922 - President of Parklands Sports Club
Red 25 - President, Parklands Sports Club
Macmillan - 1930 - Mr White is the oldest and most experienced pharmaceutical chemist in the country, where he has been carrying on his important work since 1911. In 1920 he started in business for himself …. And formed in 1926 the present limited liability company.
Red 22 - President, Parklands Sports Club - A.A. White
Barnes - Arthur White became the fourth Master of the Lodge. At the time of his installation in 1924 he was already the installed Master of Lodge Harmony No. 3084, and so a dispensation had to be obtained from United Grand Lodge of England to allow him to be Master of two Lodges at the same time.
Gazette - 7/4/15 - Liable for Jury service, Nairobi District - A.A. White, Wardle and Co.
Member of Lodge Harmony - Initiated 6/10/13, age 37, Chemist, Nairobi, died 17/5/48
Gazette 7/4/1920 - Dissolution of Partnership between Ebenezer Cyril Parker, John Edgar Avery and Arthur Alan White under the style or firm of 'The Service Motor Company'. Business continued under the same name after the retirement of A.A. White.
Gazette - 12/11/1919 - Register of Voters - Nairobi, North Area - Arthur Allen White - Service Motor Co., Parklands Sports Club
Red 25- A.A. White, Box 618, Nairobi
HBEA has A.E. White c/o Messrs Wardle & Co., Mombasa?
Gazette - Voters List 1936 - Arthur Allen White, Chemist Sclaters Rd., Nbi
Barnes Nairobi City Park cem Arthur Alexander [sic] White d.17 May 1948 aged 74