View entry
Name: WRIGHT, Ernest Hay 'Sandy', Hon.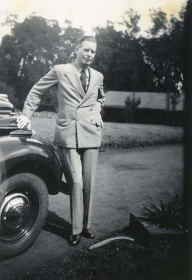 Birth Date: 29 July 1885
Death Date: 12 Feb 1965 Bulawayo
First Date: 1911
Last Date: 1965
Profession: Farmer and Member of Legislative Council he was prominent in many walks of public life in EA for over 50 years. Retired to live in S. Rhodesia. At one time - 1938 - manager for Lord Egerton of Tatton.
Area: Njoro, 1925 Matai Emuin, Njoro, 1922 Nakuru, 1937 Rongai, 1934 Rumuruti
Married: 1. Doreen 'Dee' Wilkinson b. 4 Apr 1901 Dover, d. 23 May 1996 Cape Town (later Mrs Peel and Mrs Foster-Scruby) 2. In Chelsea 1947 Mary L. Lawrence-Smith b. 23 Aug 1917, d. 10 Aug 1965
Children: Maureen 'Bubbles' (Delap); June (Sutherland) became a commercial pilot
Book Reference: Gillett, Midday Sun, Golf, KAD, Red 25, Red 31, Hut, Red 22, Njoro, Chandler, Rift Valley, LG, Gazette
War Service: E Af Transport Corps
General Information:
Midday Sun - 'another Scot ..... who had raised the initial down-payment on his land by shooting buffaloes in the forest and taking their hides to the Kavirondo district where the local Africans prized them for making shields. They paid in cattle, and that gave him a start. He was a convivial extrovert who had recently taken to politics (1933) and got elected to the Legislative Council, and he was fond of quoting, rather too often, the maxim: 'days of toil and nights of gladness', the gladness being helped on by liberal tots.'
Golf - Generous supporter of Njoro Golf Club. President of Njoro Golf Club from 1937-49
KAD 1922 - Committee Member, Njoro European Association,
KAD 1922 - Committee Member, Njoro Sports Club
Red 25 - Vice-President, Njoro European Association
Red 22 - Honorary Permit Issuer - Capt. E.H. Wright, Natai Emuin Estate, Njoro
Njoro - The Burton Cup 1949 - H.N.M. Fogg & Mrs E.H. Wright
Rift Valley - Member of the Rift Valley Sports Club - Jan 1929 - Elected - 26 May 1913 - E.H. Wright
London Gazette - 23 Feb 1917 - granted temporary rank for service with the Forces in East Africa - as Captain
Gazette - 3/12/1919 - Register of Voters - Rift Valley Area - E.H. Wright - Farmer - Njoro
Red 25 - Honorary Permit Issuer
Wife Doreen was ex-partner of Ewart Scott Grogan London
Gazette 14 Dec 1965 probate