View entry
Name: WOLSELEY-LEWIS, Ann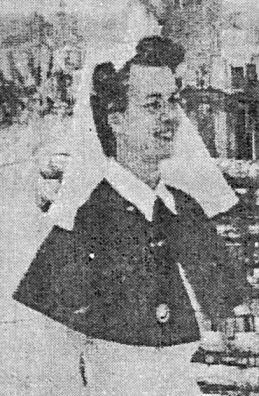 Nee: Stirke
Death Date: 12 Feb 1944 - drowned in SS Khedive Ismail
Last Date: 1944
Profession: Nurse
Area: Eldoret
Married: 1940 Arthur Wolseley-Lewis (1911-2008)
Book Reference: CWGC, Wolseley-Lewis
General Information:
CWGC - East Africa Memorial - Sister Ann Wolseley-Lewis, EDCC/363 East African Military Nursing Service. Lost in SS Khedive Ismail (London). 12th February 1944. Age 30. Daughter of Christopher and Agnes Strike, of Bedale, Yorkshire; wife of Arthur Wolseley-Lewis, of G/1911, Kenya. Column 75.
Wolseley-Lewis - Ann Stirke was a nurse at the hospital who seemed to like me and we fell in love. Whenever I had any time off, we spent it together. It was after one of the weekend dances at the hotel, I was taking her back to the hospital when she made it obvious that she did not want it to end when I left Eldoret. So I said, "OK I'll marry you!" Rather surprised at my way of proposing she said "OK" and that was that. It was some little time before we could marry but we saw each other as much as possible. A little later when I had some leave and had become an officer we went to the District Commissioner in Nairobi and were married in the Registry Ofice. Anne was the daughter of a Yorkshire farmer, who was also the local vet. He had a 350 acre farm between Thirsk and Richmond. She had a nice soft Yorkshire accent, which my snobbish mother said "did not sound very nice". I think they must have been descended from the Danes who raided those parts far back in history……….
She was a very highly qualified urse, a midwife and theatre sister. She was really dedicated and sympathetic and everyone loved her. She was a great help to Aunt Molly when Henry had a stroke and, from then on, was accepted as one of the family. She was 4 years younger than me. ………. Madagascar ……. Packenham-Walsh [sic] had come back from leave and had to tell me that Anne had had a miscarriage and lost a boy foetus. When we married I had said that we should not have children during the war, I did not think it was the right time to bring a child into the world. However these things happen in the best organised families, and we were both very upset when she lost this first child. ……..
Anne died on SS Khedive Ismail ………. It did embitter me, maybe forever, because it had to happen to Anne, who was such a super person, loved by everyone who knew her. I blamed myself again, because of the agreement we had made not to have children. If she had not lost the baay she would not have been on that ship. She was a wonderful nurse and had so much to give, but she gave her all for the Empire.