View entry
Name: WILSON, George Duncan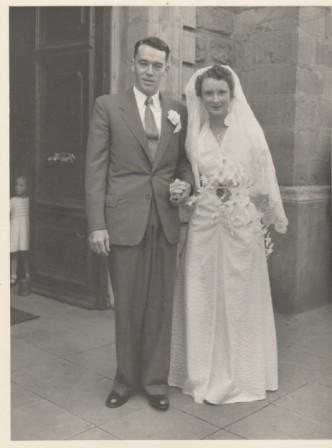 Nee: son of George Wilson
Birth Date: 1926 Nairobi
Death Date: 1998 Queensland, Australia
First Date: 1926
Last Date: 1981
Profession: Coffee farmer, dairy, maize, sugar cane. Land and Agric. Bank and later Agric. Finance Corp., Chairman Nyanza County Council
Area: Soba River Estate Songhor, Muhoroni,
Married: At St Austin's, Nairobi 1953 Catherine Mary Gilmore Campbell (dau of Archibald Campbell)
Children: Claire (Seret) (1954); Bruce (1956)
Book Reference: EAWL, Hut, Jambo 68
War Service: Served in Royal Navy 1944-45
School: Eldoret Primary School, Nakuru School, Prince of Wales, Egerton College
General Information:
Duncan took over the coffee estate - Soba River Estate when his father died. We had also branched out into a Guernsey herd, and sent whole milk into Kisumu on the same 4 am. train from Muhoroni. Later, when the sugar factory - a new one - was built nearer to the station, by Indians, we planted sugar in the place of the maize we used to grow..
After Independence farms were bought out by the British Govt. we were one of the few who weren't and had to battle on against the odds, broken fences - cattle disease and more and more aggravation - finally we sold!!! (almost a give-away) to Oginga Odinga - when he was released from gaol. He had been told - go and find some land the Govt. will pay for it - and you keep out of politics. So then we moved to Koru and joined Homa Lime Co. owned by John L. Riddoch - Kisumu. Duncan's parents went to the Gold Fields at Kakamega - when the 'Gold Rush' was on, Duncan recalls living in a 'hut' and at the end of many weeks digging and panning, his father took his findings to the Bank, and got the 'princely' sum of 80 Kenya Shillings, that would have been quite good - then! But certainly not worth all the hard work. Duncan's uncle had gone to farm in Songhor (Archibald Welsh Wilson) - foot of Nandi Hills - before WW1, he owned a cattle ranch in the Argentine and then bought in Kenya, he was an engineer so the farm had its own little light plant and many other necessities of farming. When Duncan's father was offered a soldier, settler farm in 1918, he chose to go to the Chemelil/Songhor area to be near to help his brother. His brother went back to S. America, so he took over the managing of 'Kipsewe', until his brother died suddenly and the farm was sold and George Wilson moved to Nandi Hills and worked wioth Eric Mayers.
Jambo 68 - George lived among the Kalenjin and spent his childhood at Nandi Hills
Graham Wontner He worked for many years at Koru for the Homa Lime Co., before emigrating to Australia