View entry
Name: ONSLOW, Charles Edward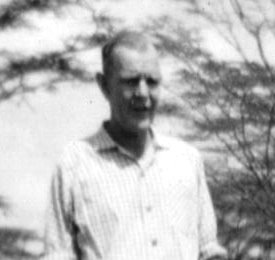 Birth Date: 5 Apr 1912 Shropshire
Death Date: 8 May 1969 Nakuru
Profession: Horticulture, horses, farming
Area: Dundori, Gilgil, Rongai, Sotik, Molo
Married: In Sotik 20 July 1955 Margaret 'Jimmy' Lee Evans b. 8 Mar 1912 Lincolnshire, d. 1 Nov 1994 Nairobi
Children: John Edward Onslow (1956 Sotik)
Book Reference: A Love Affair With The Sun (Michael Blundell); Tales From The King's African Rifles (John Nunneley), KAR, A History of the King's African Rifles (Malcom Page)
War Service: KAR
School: Lancing
General Information:
John Onslow: He was a farm manager until war broke out and then joined the KAR and fought in Abyssinia, Madagascar and Burma and was awarded MC Bar. He was badly wounded and then had various jobs on farms after the war. Farmed in Rongai 1928 to 1939 and Sotik 1946 to 1962 and in Molo to 1969.
Fought in: Abyssinia and awarded MC at the Battle of Colito; Madagascar; Burma awarded Bar to his MC at Indaiyingi. Attended Victory Parade in London.