View entry
Name: WATSON, John Evelyn Derek (Lieut.-Col.)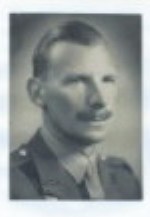 Birth Date: 21 June 1910 Farnborough
Death Date: May 2002 Bath
First Date: 1935
Last Date: 1952
Profession: Army officer
Area: Zomba Nyasaland, Tabora, Dar es Salaam, Arusha, Moshi, Nairobi, Nanyuki, Jinja
Married: 1. 1940 Barbara Ann Buckley d. 1986 (cousin of David Sheldrick) 2. In Wandsworth 1955 Joyce Margaret Parham b. 1934 Croydon
Children: Sally Ann (1941); David John (1942)
Book Reference: KAR, profile in Rhino Link No. 6
War Service: KAR in Tanganyika, Kenya, Somaliland, Abyssinia, Ceylon, Burma
School: Sandrock Hall, Hastings; Uppingham
General Information:
Rhino Link no. 28, Nov 2002 Derek Watson died suddenly on 29th April, just short of his 92"d birthday. He was his usual robust and cheerful self at the KAR Centenary at Sandhurst just twelve days before, where he maintained that he was the oldest KAR member present. Derek was determined to follow his father into the profession of arms and was eventually granted a supplementary commission in the Royal Leicestershire Regiment in June 1931 and was posted to the 2"d battalion in Londonderry. The strenuous life there consisted of walking the line at least twice a week, hunting with hounds, playing rugby for the Army and 36 holes of golf on Sundays. This high standard of living led to a break down of cordial relations with his bank manager, and in 1934 he went to the KAR to join many friends who were attracted by new challenges and better rates of pay.
Derek spent the next 17 years with the KAR, where his life was full of adventure, sporting triumphs, great military achievements and a distinguished war record. In 1935 he was posted to 2 KAR in Zomba. Nyasaland, where he arrived without a penny having enjoyed a three-week trip around the Cape with numerous stops en route. After six months training recruits he was appointed to command A Company. In early 1936 he joined 1 KAR in Tabora, where his military knowledge was much enhanced by virtue of the fact that all the senior NCOs and a good number of askaris had 1914-18 war medals. Having been deployed on a number of expeditions to deal with cattle rustling he was appointed ADC to the Governor in Dar es Salaam in 1937, and made trips all over the country living in the style which suited him. In 1938 he re-joined 1 KAR as a Company Commander, in Tabora, Arusha and Moshi.
Derek returned home on six months leave in June 1939 only to be recalled in September as OC C Company 2 KAR in Kabeti and Dodoma. With war looming intense training started and 2 KAR moved to British Somaliland as part of 21 Brigade in July 1940. The battalion soon saw action against the Italians and were bombed and shelled whilst building a defensive position for the Camel Corps and after numerous skirmishes were withdrawn to Mbagathi and Nanyuki in December 1940. The first six months of 1941 were spent in Abyssinia where a variety of actions took place culminating in many Italians surrendering when their African soldiers mutinied.
From August 1941 to March 1942, 2 KAR was located at Marsabit and Tika before embarking for Colombo. Nine months after arriving in Ceylon, Derek was appointed Commanding Officer of 4 KAR in Tricomali. The battalion left Ceylon and landed at Chittagong in Burma in August 1944. From early September 1944, 4 KAR was continually in action as they slowly pushed the Japanese back towards the Chindwin river. They advanced in savage monsoon conditions on very narrow and thickly overgrown tracks on which a lot of work was required before they were even able to move their mules — their only form of transport. Dropping Zones had to be secured and cleared nearly every day for the re-supply of food and ammunition.
On 22nd and 23rd October, after a vicious close quarter battle, 4 KAR eventually took Leik Hill — which enabled the East African Brigade to break out on a wider front in pursuit of the withdrawing Japanese. Lt Gen Bill Slim, GOC 14th Army, recommended Derek for the Distinguished Service Order in a citation which included the words 'Lieutenant Colonel Watson's handling of his battalion has been most outstanding throughout the operations and by his skill, gallantry, determination and fine leadership over a protracted period he has contributed largely to the success achieved.' Before he handed over command of the battalion in December 1944 he was presented by the askaris with the Samurai sword carried by the Japanese commander at Leik Hill.
After two months in hospital suffering from a variety of Eastern ills, Derek was posted as GSO 1 at Force Headquarters in Nairobi. He loathed the job and after some string pulling, in April 1945 he was posted to command 3 KAR in Thika and Nanyuki. This was a short tour as he was then selected to head the East African contingent taking part in the Victory Parade in London in June. With the war now over Derek was now posted back to 4 KAR as 2IC. Some of the older askaris wanted to know what he had done wrong to be demoted! He remained in the battalion until May 1948 when he returned to the Leicestershire Regiment but, unhappy in the United Kingdom, he wangled a posting back to Africa and in April 1949 became 2IC of 5 KAR in Jinja. In 1950 he was re-appointed to command 4 KAR in Nanyuki where, in February 1952 the battalion was due to be visited by Princess Elizabeth and Prince Philip — sadly cancelled because of the death of King George VI the night before. Subsequently, when the battalion moved to Jinja, Derek persuaded the Governor to provide quarters for the married officers and also to give the battalion an appropriate gift. To the delight of all, both requests were met. Rondavels for the families were built and the battalion was presented with silver drums from the people of Uganda. In October 1953 Derek took command of r Battalion the Royal Leicestershire Regiment in Germany, Khartoum and Cyprus. His final two years before retiring was at the Regular Commissions Board before retiring from the army in 1960. He then worked for the Milk Marketing Board for 17 years, eventually settling down to full retirement in Warminster to be with his family and play bridge and golf. Derek will be remembered for his amazing energy and his ability to enjoy life to the full. He was an excellent communicator and was able to bridge the generation gap. Thanks to his radiant smile and cheerful disposition one always felt better for being in his company. He never forgot
his military links and from an uncertain start in 1929 he had a truly remarkable and fulfilling career.