View entry
Name: ABRAHAM, Jasper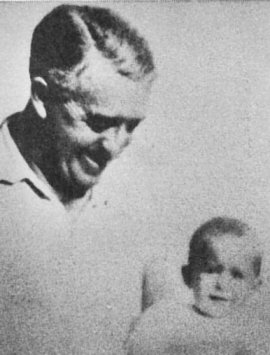 Nee: bro of Charles Wellington Rupert and Michael Hudson Furse Abraham, son of Rt. Rev. Charles Thomas Abraham
Birth Date: 11.4.1886 Shrewsbury
Death Date: 1943
First Date: 1904
Profession: Farmer
Area: Over Haddon, Molo, 'Kweresoi'
Married: 1934 Edith Mary Betts b. 21 Feb 1912 Staffordshire, d. 31 Dec 1995 Ashford, Kent
Children: Sally Delia (Pratt) (28 July 1935 Nakuru); Celia Jill (19 Aug 1936 Nakuru-2 Feb 1995); Judy Marjorie (17 June 1940 Nakuru-24 Feb 1964 Durban); another dau.
Book Reference: Gillett, Huxley-Pioneers Scrapbook, SE, HBEA, Over my Shoulder, Gethin, EAWL, Joelson, KAD, Red 31, Hut, Curtis, Playne, Drumkey, Red 22, Land, Pioneers, Gazette, Nicholls, North, EAHB 1907, SKP, Web, Rift Valley, Red Book 1912
School: Haileybury
General Information:
SE - J. Abrahams - Molo - July 1907 - Feb 1910
HBEA - 1912 - Over Haddon, Molo.
Gethin - 1908 - 'Duder occupied another farm [at Molo] and some distance past him were the two Abraham brothers, whose father was, I believe, at that time the Bishop of Bath and Wells.'
' ....... When Jasper Abraham on "Kweresoi" (the euphorbia trees) and brother Rupert on "Borone" - were expecting a visit from their parents, they felt they must build a house of sorts for them. The walls and roof went to plan but not so the floor in the big room. In order to get the job done more quickly they started one at each end - result:- they did not meet in the middle. After thinking the matter over they made a step down on either side. This then became the dining room. ..... I can remember Jasper riding over from his farm on his pure Arab stallion Hadji Murat.' Source - Letter from Mrs Betty Tennent Joelson - pioneer settler at Molo
Curtis - p. 105 - 'Memories of Molo and Lumbwa' by Mrs Betty Tennent ' ....... A neighbour, Jasper Abraham, came to Molo in 1904 and farmed at Kweresoi. The picture shows him with his eldest daughter Sally. His farm was managed during WW1 by Miss Bull, who had come out in 1908 to look after the Hill-Williams girls at Marindas. I remember at the age of 11 riding my Somali pony Lolo accompanied by Arap Kararook to say goodbye to Miss Bull before sailing to England.
Playne - Whatever else is wanting at Overhaddon Farm it is certainly not water, for 5 streams join on the property, and there is also a permanent spring near the homestead. ............ Overhaddon Farm is 8,500 feet above sea level, and 16 miles from Molo Station. It runs to 10,000 acres. The owners are Messrs. J. and C.W.R. Abrahams. The first-named came to BEA from England in 1905
Land - 1908 - J. Abraham - Grazing, 4000 acres, SW Slopes of Mau Escarpment, 9-4-05, Registered 29-4-08 Land - 1911 - Jasper Abraham - Grazing and agricultural, 1000 acres - South Molo - 9/4/05 - Freehold - Registered 13/2/11
Pioneers - Molo & Turi - In 1908 Jasper Abraham imported Romney rams to improve the cross already made in the Rift Valley between local Maasai ewes and imported Merino rams. Later his son imported Corriedales.
Gazette - 7/4/15 - Liable for Jury service, Molo - J. Abraham (British), Farm Manager
Nicholls - Jasper Abraham, son of the Bishop of Norwich, flogged an African to death [1923]. On being charged with murder he claimed the African had wished himself to death - a well-known phenomenon. There was an uproar in Britain at Abraham's sentence of only 2 years imprisonment despite a guilty verdict. The Colonial Office ordered that in future such a trial should take place in a district other than that where the crime had been committed.
North - One of 86 signatures on a petition to the FO objecting to a proposed Zionist settlement in EA, Feb-April 1905.
SKP - 1938 - Society of Kenya Pioneers - over 30 years in Colony - arrived 1904 - Molo, Jasper Abrahams
Rift Valley - Member of the Rift Valley Sports Club - Jan 1929 - Elected - 1910 - J. Abraham
Red Book 1912 - J. Abrahams - Naivasha