View entry
Name: WATCHAM, James Robert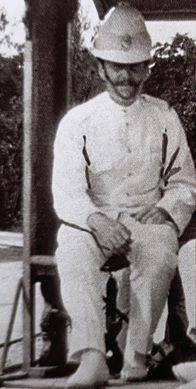 Nee: son of Sarah Watcham
Birth Date: 1882 Bangalore, India
Death Date: 9.5.1926 Nairobi
First Date: 1901
Last Date: 1926
Profession: Police
Area: Nairobi, Mombasa, 1925 Kiambu
Married: Yes
Children: dau.
Book Reference: Cuckoo, Police, EAHB 1905, KAD, Red 25, Hut, Drumkey, Red 22, EAS, EAHB 1906, Gazette, Barnes, North, EAHB 1904, EAHB 1907, Red Book 1912, Patricia Lott Page
War Service: East African units
School: St. Joseph's College, Bangalore; First-in-Arts Examination, Madras University
General Information:
Police - took over the command of the police in Mombasa when Ewart was posted to Nairobi in April 1902
EAS - 29/1/1903 - Fire at Makadara ……. Mr Watcham, of the local police, was quickly on the scene
Gazette - 7/4/15 - Liable for Jury service, Nairobi District - J.R. Watcham, River Side
Nairobi Forest Road Cemetery - J.R. watcham, British, age 44, died 9/5/26
Gazette - 17/12/1902 - Plague compensation after bubonic plague in March 1902 - Rs 178
North - Formerly Inspector of Police Federated Malay States; Chief Accountants Office Nov 1900-July 1901; Appt. Superintendent Local Police EAP 6/8/1901; Inspector of Police EAP Dec 1902; Wife & daughter arr. Mombasa from Nairobi, ill 1/5/1903
Red Book 1912 - J.R. Watcham - Machakos
Gazette - 29/10/1919 - Register of Voters - Kikuyu - James Robert Watcham, Coffee Planter, Lyndhurst Coffee Estate, PO Nairobi
Cuckoo - mentions him as Inspector Watcham in charge of police in Mombasa prior to formation of BEA Police. 1905 - Inspector of BEA Police in Mombasa.
Police - Appointed to BEA Police in August 1901
Patricia Lott Page - The Watcham family were in Kenya, first arriving in Mombasa in 1899 from the Straits Settlements, originally from Bangalore. They were variously coffee planters and farmers, at the 'Riverside' plantation in Nairobi (the subject of the famous law case, which is often quoted in boundary disputes), Gilgil and Thomson's Falls.
James Robert Watcham - Probably did not marry
Info from Noel Clark: James was educated at St. Joseph's College Bangalore, and obtained a First-Class Arts Degree at Madras University. He served with the Federated Malay States Police from September 1898 to May 1900, and then moved to East Africa. After working in the Uganda Railway Accounts Office from November 1900 to July 1901 he became an Inspector with the British East Africa Police in August 1901. He later became a coffee planter and farmer. He
arrived in the Protectorate between May and November 1900. After working in the Uganda Railway Accounts Office from November 1900 to July 1901, he commenced as an Inspector of the British East Africa Police in August 1901. In 1904 the force was small, and in June of that year had a total of just four European Inspectors, one of which was JRW, who was stationed at Mombasa.71 The BEAP was boosted by amalgamation with the Uganda Railway Police in October.71 JRW remained as an Inspector with the police in Mombasa until at least 1907, in March of that year being at the Belazoni Station.72,73 It is not known when JRW left the police, but when he was elected as a Non-Resident Fellow of the Royal Colonial Institute in 1913 his address was Riverside, Nairobi.26
In 1912 the Crown brought a criminal case against JRW and his brother SDW (no. 10/1912), but the case was not reported and so no further details are known except that it was set down to be finally heard in Nairobi on 12th January 1914.63
James enlisted for service in the First World War. He was assigned the number 11584 on the Unattached List, and then joined the Military Labour Corps as (Private?) 5923 before he was commissioned as a 2nd Lieutenant in that Corps on 27th October 1917.74,65a He was awarded the British War Medal and Victory Medal for his service.
It seems that after the war JRW continued his efforts in the coffee industry. In 1917 he was listed together with his brother PEW both at Riverside and at "Killarney", the property of George Henry Newton-Wilson.39,26 He then moved to the Lyndhurst Estate on the Kiambu Road north of Nairobi, where he was described as a 'coffee planter.'75
James Robert Watcham died on 9th May 1926 and was buried the same day in Nairobi South Cemetery.5 It is believed that he did not marry or have issue.