View entry
Name: WHITTON, Charles Edward 'Coconut Charlie'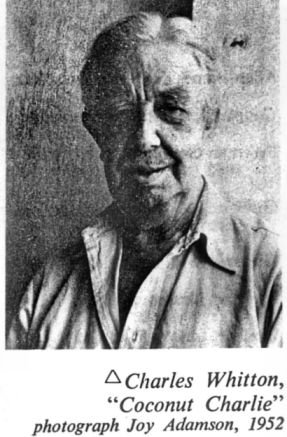 Birth Date: 1875 Islington, London
Death Date: 21 Mar 1953 Mombasa
First Date: 1912
Last Date: 1953
Profession: Coconut plantation owner, engineer.
Area: Lamu
Married: In Finchley 24 Aug 1907 (div. 1914) Hilda Madeline Hermione Baggs b. 1883 Fulham, d. 19 Apr 1967 Coventry
Book Reference: Midday Sun, Cameron, Freeland, KAD, Red 25, Red 31, Curtis, EA & Rhodesia, Red 22, Leader14, Barnes, Red Book 1912, Red 19
General Information:
Midday Sun - 'he had arrived in the Protectorate in 1912 to manage rubber and coconut plantations on the mainland. Long tufts of hair came out of his ears. He possessed a dignified mien, a white moustache and white hair, and was assembling a collection of artefacts to become the nucleus of a museum. There was a lot of pottery and Chinese porcelain, at that time quite easy to find, and he showed us also Lamu chests, ivory-inlaid chairs and silver-inlaid locks. 18 years had passed, he told us, since he had set foot off the island, and here he expected to remain until he died. His other hobby was to work out how to get from one railway station to another in Britain. There used to be a fat volume called Bradshaw's which gave the times of arrival and departure of every train to and from every station in the UK. Coconut Charlie spent hours, a Bradshaw at his elbow, planning imaginary railway journeys which, whenever possible, avoided London. Cameron - The total European population of Lamu is 6, all bachelors. Charles Whitton or "Coconut Charlie" as he is called. His hobby was collecting furniture, old brass-studded chests, anything that had to do with the island. I had heard too, that he had a passion for trains, that he was an expert on the history of the British Railway and that he knew the time-tables off by heart. Sitting here, on the cool verandah of his old house, "the talk of traders and dhow captains in his ears" he could work out for you the best route from Southampton to Bangor, and your times of departure and arrival at the different junctions on the way. For some reason best known to himself, he strongly denies this, and (as he told us) is very annoyed with Mrs Huxley for having mentioned it in her book. I have a strong suspicion, however, that Mrs Huxley knew what she was talking about. .......….
He is a character on the coast, the nearest thing they have to that charming English commodity, an eccentric; and they are justly proud of him. ... Born in England in 1877, Whitton served an apprenticeship as a mechanical engineer, and came out here in 1911, one year after the abolition of slavery. He has left Lamu exactly twice in 42 years. He was once the largest coconut plantation owner in Lamu, and an expert on the processing of copra, hence his nickname ....... which ... as soon as you have met him seems incongruous. Although there is no road on the island large enough to take a car, and there is no car on the island, he now keeps a garage in which he repairs trucks shipped by dhow from the mainland. Allfree had spoken of him with affection. "He has a weighing machine in the hall, one of those old-fashioned ones, which is polished regularly at 7.30 every Saturday morning Whitton comes down himself punctually every Sunday to be weighed. He marks it up on the wall; if there's one grammes difference, he knows exactly what to do about it.
He is a maniac for exactitude." Since he has lived alone so long, the small details of life have, no doubt, taken on great importance. Such precision is also a sign of contentment and peace of mind. "Ask him to show you his office", Allfree said. "On the shelf above his desk are numbered tins. Every bit of string that comes into the house is carefully sorted out and graded and stored away in them. He must have miles of the stuff." Whitton's houseboy showed me the office, Whitton being too ill to come down himself. It housed what must have been the first typewriter on the market, a Remington, wiith the letterpress set into long arms that reached up into the air like the antenna of some rare tropical insect. Whitton lived in the largest of the Arab houses facing the waterfront, bult with the usual open piazza, the top verandah latticed in, supported on heavy coral-crag columns. Plastered over with a cement of coral and sand, it had weathered to an attractive honey colour, so that it resembled some of the plantation houses in the Carolina Low Country. We had been told that he was suffering from a very bad heart and that he might be too ill to receive us. "If he hears, though, that you have been to the island and that he has missed you, he will be very disappointed." Allfree had told us. "There is nothing he likes more than receiving intelligent visitors."
We decided to risk it. ....... Whitton's houseboy met us at the foot of the stair, and we asked if we could see the Bwana ..... We were shown upstairs into a spacious room, curtained in red and white printed cotton from India. Hurriedly we looked around. There were a set of chairs, looking like an Arab interpretation of Hepplewhite, cane seated, carved out of some hard African wood; brass studded chests and silver-inlaid ebony locks, and a great deal of china. The place had a pleasantly colonial air. Opening off it was another still larger room, and here we waited for Mr Whitton. Around the walls, on brackets, were models of all the different kinds of dhows built on the island ........ We had not long to wait. Mr Whitton was in bed ...... but the idea of someone to talk to had proved too great a temptation; and he appeared slowly and quietly around the corner, a man of fair height, dressed in a black and white checked sarong and over this an open necked flannel shirt ........... He spoke a beautiful English and had a charming voice, pronouncing every word very precisely. Now 76 years old, he had spent the better part of a lifetime on this island. He had not been out of the house for years ........ He had a charming and whimsical sense of humour. "When I die I am leaving this house to the town as a museum; it is full of things that have to do with the place. ......... He had a pleasant face, long, distinguished looking, with a fine head of waving white hair. His thin hands resting limply by his side were those of an artist ....... Freeland - It was his proud boast that he never left the island for a period of 30 years. An Englishman who had been trained as an engineer in the old South Eastern and Chatham Railways depot at Ashford in Kent, because of an affair of the heart that had gone wrong, he came to EA and managed estates on the coastline. When the price of coconut oil dropped to an uneconomic level Whitton settled at Lamu, setting up in business as a merchant. One of his lines was motor car spares. I have always tried to imagine how a man could sell spares for motor vehicles when the only cars he had ever seen were those in front of which a man had to walk with a flag. But Whitton, who was known as 'Coconut Charlie', kept abreast of the times. In his small living room were piles of English periodicals. He was an expert on all kinds of sport and his favourite relaxation was to produce copies of railway timetables and work out the quickest route and the cheapest, say from Ramsgate to a small town in the north of Scotland.
His knowledge of local affairs was immense. One room in his house he set aside as a museum. Charles Whitton broke his self imposed hermitage when he became ill and was flown to Mombasa. He didn't return, for he died and was buried there. Whitton was a man who dressed impeccably. The only other European on the island, apart from the DC, was a man who dressed like a tramp. These two men hated one another. They would pass on the promenade during their evening perambulations without a glance or a word - Percy Petley kept a hotel.
Curtis - Paddy Schofield - Lamu in Inter War years - ....... Charles Whitton, universally known as Coconut Charlie, who had lived there as a trader for many years. The copra he produced at Shela from his farms on Lamu Island and at Witu earned him the name. He was always dressed in spotless white, and was 'our Lamu correspondent' for the East African Standard. ..…
East Africa & Rhodesia - 30/4/53 - Mr Charles Whitton, who has died in Mombasa, had lived in the Lamu area of Kenya since before the 1914-18 war.
Red 22 - President, Tanaland Traders' and Planters' Association - Lamu
Red 22 - General Agent, Copra Dealer, General Merchant, Produce Merchant
One of the most extraordinary Europeans to come to Kenya to farm arrived on the spot. This was Charles Whitton soon familiarly known as "Coconut Charlie". In 1912, he set up a copra drying factory at Shela and for many years operated this factory with coconuts that he obtained from his farms on Lamu island and at Witu. Charles Whitton knew everybody and was a great help to Joy Adamson in 1951 and 1952 when she was painting her famous series of portraits of Kenyans which are now mostly housed in the National Museum, Nairobi. In an unpublished manuscript, Joy Adamson writes: - "On my previous visits to Lamu I had often heard of Charles Whitton, the oldest resident in Lamu who lived like a hermit and never had left his house since 40 years. There were rumours that after a successful army career he came after World War I with his wife to Lamu and started a prosperous business. But something went wrong and his wife went away. Since then he never left his home. He loved Lamu and did a lot of improvements as well as collected Arab jewelry, furniture, ornaments, traditional clothing, and accumulated during the years a now priceless collection which he displayed at his home and intended to bestow after his death to the Mombasa museum.
Although I was told that Charles Whitton was antagonistic against women, the District Commissioner succeeded to arrange an invitation for me which I gladly accepted. But as soon as I met this nice old man, I felt truly sorry to see how uncomfortable my visit made him and, although he agreed of lending me parts of his collection, he cut our meeting to the minimum. But as his co-operation naturally involved more visits, I tried my best to put him on ease on these occasions and was very glad to notice that he gradually relaxed and finally we became the best of friends. It was only possible through his generous help and influence of the District Commissioner and the Liwali that I was able to paint a series of superb Arab types."
During his long stay in Lamu, Charles Whitton did a great deal to develop agriculture at Witu and Lamu. Upon his death in 1953, at the age of 78, he donated through his will much of his fine collection of art of the coast to the proposed Fort Jesus museum in Mombasa. Also he left a £7,000 trust to be used to pay the school fees of "the Arab and Swahili boys and girls in Lamu town including in particular education in the advantages of thrift."
Barnes - Mombasa Cemetery - Charles Whitton, died 21 Mar 1953 age 77, European Hospital, Cerebral Thrombosis
Red Book 1912 - C.E. Whitton - Lamu
Gazette 1/11/1912 - Appointment - Charles Edward Whitton as a Visiting Justice of Lamu and Kipini Prisons
Red Book 1919 - District Committees - Lamu - C.E. Whitton
Red Book 1919 - Tanaland Traders' & Planters' Association, Lamu - President - Chas. E. Whitton
KAD 1922 - President, Tanaland Traders & Planters Association (and Red 25)