View entry
Name: ADAMSON, Terence Graham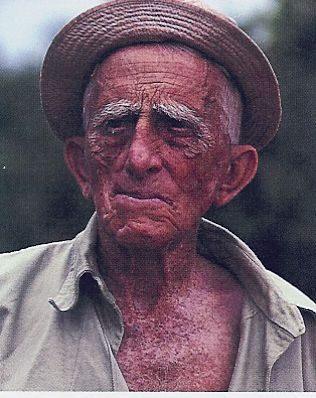 Nee: brother of George Adamson
Birth Date: 22 Feb 1907 Etawah, Bengal
Death Date: 4 Apr 1986 Kora Rock, Kenya
Profession: Farmer, wildlife warden
Area: 1937 Kanyara Estate, Limuru, Galana
Married: Unmarried
Book Reference: EAWL, Sundown, Alexander, Dusty, Cass, Hut, Chandler
General Information:
'Terence Adamson, game warden in the Isiolo area of the NFD. We always sought him out when we stayed at the then Uasimero Game Camp where we frequently took the children and where you could see lion, elephant and a fantastic selection of buck - including the minute dik-dik. Terence could always tell us where game were at the time. He lived rough, a blanket on the ground was often enough comfort for a night's rest. Terence was so knowledgeable about all the local wild life and knew how to keep out of danger for I never heard of him using his gun. He would talk for hours about his experiences. The last time I saw Terence was when we were on the same boat and we were emigrating to SA. He seemed to be totally out of place and told us that he was on his way to see if it was a good idea to move down South now that Kenya had her independence. We heard later that he went back to Kenya as he didn't fit in anywhere.' Source:- Mrs Connie Whitfield
Sundown - 1955 - Voluntary assistant warden at Tsavo Alexander - Terence Adamson, brother of George Adamson of Elsa fame, who in the past was often employed at Marsabit building pipelines and houses. He is one of Kenya's great odd-job men. Without men of this calibre much of what exists today would not yet have been built. One of Terence's odd jobs at Marsabit was controlling game which drifted into the township. He himself lived in a little house in the township and tells the amusing story of how one night, on hearing thumps outside his house, he looked out to see several large buffalo in his front garden. He dashed inside to get his .470 double and his torch, put on his kikoi (a Somali skirt worn by the men) and then hurried out again to find the buffalo. Creeping through the garden he got as far as the road where his torch spotlighted one large buffalo quite near. As he fired, it lurched and ran up the road with Terence in hot pursuit, quite oblivious that his kikoi had fallen off at the shot and he was now quite naked. He found the buffalo dead up the road and then had the job of returning home dressed only in his huge .470 (he is not a big man) before people started coming out to see what the rumpus was about!
Dusty - was small, battered, weathered, with nervous mannerisms, great endurance and undaunted courage. He had been farmer, prospector, professional hunter, road, dam and bridge builder, soldier, water-diviner. Recently he had invested his considerable savings in a hotel, but in this enterprise his stubborn teetotalism militated against success. Some pub-keepers drink their profits: Terence scared his away. Standing behind the bar with a forbidding scowl on his face, he growled at customers, "Another whisky? Good heavens, man! Don't you realise what this does to your stomach-lining?" Newly appointed Locust officer in 1950
Cass - a solitary man, intelligent, smaller and not as articulate as George. He was also a fine amateur botanist. Much of his life was spent on his own as a bush engineer, living the life of a hermit in a hut in Marsabit and supervising the building of roads, airstrips and large shallow pans in the baked earth for catching water. Completely fearless, he was known to knock off the odd buffalo when bothered. Not a man who felt comfortable in the presence of women, he nevertheless fathered more than one son by an African woman - he had followed in the footsteps of his brother, who had lived with a beautiful Somali girl before marrying Joy. John MacDonald, the vet, said of Terence: 'He was the sort of chap you could put under a thorn tree in the middle of Africa with no food or water and he would survive. But put him in front of a female and he was terrified. He was desperately shy and never raised his eyes when talking to a woman.
Chandler - In the early 1980s Terence was bitten in the face by one of the Adamsons' tame lions, a male called Shade, leaving him with a permanent scar. The quintessential story about Terence, a quiet, thoughtful man, concerns the cheap suit he was given upon his release from the military in 1945. Owning no other formal clothes, Terence buried the suit in an airtight can on his property, digging it up years later when he made his only overseas trip. When he returned home he put the suit back in the can and reburied it.
Gazette 6 Dec 1938 Kiambu Voters List