View entry
Name: O'HAGAN, Desmond CMG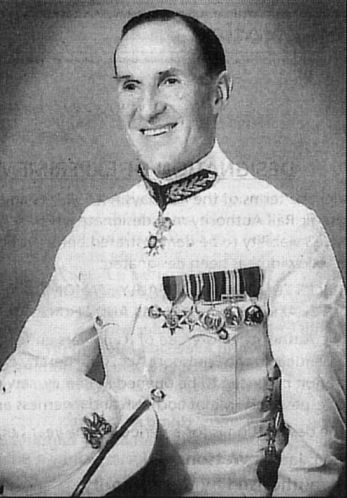 Nee: son of Capt. Claud Henry Philip O'Hagan, Nyeri
Birth Date: 4 Mar 1909 Delvin, Co. Westmeath
Death Date: 12 Dec 2001
First Date: 1925
Profession: Appointed as a DO in 1931. Seconded to Zanzibar from 25-11-37. Provincial Comm. Coast Province 1952. DC in 1935, Native Courts Adviser 1948. PC Nyeri in 1953
Area: Mombasa, Nairobi, Nyeri, 1925 D. O'Hagan, Nyeri, Gilgil, Hut - Kianjibbi Kiambu, 1935 Isiolo
Married: In Kiambu 21 Feb 1942 Pamela Jane Symes-Thompson b. 22.3.1920, d. 4 Dec 2016 Nairobi ( (dau of Maj. A.H. Symes-Thompson DSO)
Children: Anthony Richard (1943); Eva Patricia 'Patsy' (8.6.1945) (Chapman); Morna (4.7.1949)
Book Reference: Staff 39, Who's Who, Staff 53, Cass, Red 25, Hut, Colonial, EA & Rhodesia, Red 22, O&C, OP, SS, Barnes, Telegraph Obit., Foster
School: Wellington College and Clare College, Cambridge 1928-31; BA (Cantab) Barrister-at-Law (Inner Temple)
General Information:
Played polo for Cambridge 1929.
Cass - took over as Acting PC of the Northern Frontier Province from Dick Turnbull.
East Africa & Rhodesia - 3/1/57 - CMG
Red 22 - Muringato, Nyeri
OP - Issue 84, October 2002 - Obituary
Soldier Settlement Scheme after WW1 - Class B - D.S. O'Hagan, 43 Empress Avenue, The Drive, Ilford, Essex - Farm 1029
Barnes - St. Paul's Church, Kiambu Cemetery - Douglas O'Hagan, CMG, 4th March 1909 - 12th December 2001
Telegraph - 7 Feb 2002 - DESMOND O'HAGAN, who has died aged 92, adopted a baby elephant which insisted on sleeping in his bedroom when he was a young district officer in Kenya. Tembo, which means elephant in Swahili, was brought into O'Hagan's tent in the bush at the age of two months after his mother had been shot, and from then on declined to leave O'Hagan's side. At first only the size of a large Labrador, Tembo spurned the spare bedroom in the mud hut with a thatched roof to lie down every night beside O'Hagan's bed. During the day he went to the office, where he quietly watched O'Hagan conducting business and holding court. If there was a dinner in the evening he insisted on coming too, screeching loudly until allowed into the dining room. Feeding the baby elephant was not easy. No elephant's milk was available. Offers of grass were spurned. O'Hagan's friends had to club together to help him find the necessary quantity of undiluted cows' milk. Then, when O'Hagan went on safari, leaving Tembo in the care of a nurse who was fond of him, the elephant pined for his missing friend and died at the age of nine months.
Desmond O'Hagan was born at Devlin, Co Westmeath, on March 3 1909. His parents went out to Kenya to start a coffee estate at Nyeri, but before the trees produced their first crop his father was recalled to the army for the First World War, and his mother started a field hospital in Nairobi. For four years the family lived in a tent beside the polo ground. They returned to the now prosperous estate, where Desmond and his brother learned to ride, shoot and fish, developing a keen interest in the wild life. Desmond was sent to Wellington, which he left at 17 to return to Kenya, where his father had found the profits from a cattle ranch he had started too small, and decided to grow wheat. While the father ploughed hundreds of acres of virgin black soil during the day Desmond continued the task into the night.
After two years O'Hagan went to Clare College, Cambridge, where he achieved half-Blues for polo and tennis while reading Law and Colonial Jurisprudence. In 1931, he entered the Colonial Service and was posted to Kisii, an outpost in hilly, wet countryside. District officers spent much of their time on safari, collecting poll and hut taxes. They were expected to walk everywhere for their salary of £1 a day, but O'Hagan bought a second-hand bicycle to ride ahead of the bearers on his rounds; when he reached a hill, he would dismount and leave it to be collected by a tribal policeman. His tasks included hearing appeals with clan elders. Cases often involved the return of the bride price paid for women who deserted their husbands, often with good reason; he also persuaded the natives to drive young locusts into trenches for burial.
He then transferred to Kakamega, where his one-legged district commissioner expected him to inspect detainees at 6 am six days a week and also to play tennis with him. O'Hagan then went to the Northern Frontier District where he had to cope with the Somalis and Boran fighting over grazing rights. Safari travel was by camel, but the beasts could be troublesome. Once they ran off with most of his food when a couple of hippos charged into his camp. His tent was also knocked down by elephants in the middle of the night.
On his first home leave, O'Hagan was called to the Bar by Inner Temple. He then became private secretary to the British Resident in Zanzibar. As the ferment that led to the Mau Mau insurgency began in the 1950s, O'Hagan was noted for his firmness as a provincial commissioner in Central Province. After moving to Coastal Province he also warded off a general strike by appealing to Tom Mboya, a union leader whom he had known as a young man, and organising a visit by Princess Margaret. Unlike most other colonial officers, O'Hagan did not retire to England. He first served as chairman of the transport licensing authority in Tanganyika, then returned to run the family coffee farm. Proud of the colonial administration's honesty and success in bringing the country to peaceful independence, he stayed on. A stalwart member of the Muthaiga Club, he won many bridge tournaments and captained the Kenya Seniors at golf. O'Hagan, who was appointed CMG in 1957, married, in 1942, Pamela Symes-Thompson; she survives him with a son and two daughters.
Hut - arr. 1912?