View entry
Name: ASKWITH, Thomas Garrett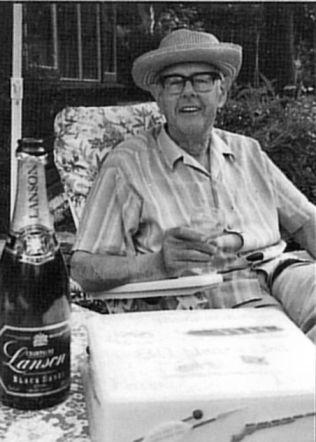 Nee: son of Thomas Nowell Askwith (killed Ypres 1917)
Birth Date: 24 May 1911 Cheam, Surrey
Death Date: 16 July 2001 Cirencester
First Date: 1936
Last Date: 1961
Profession: Appointed as a DO in 1936. At Kisumu in 1939, DC/ADC at Kisii in 1924., Sec. for Community Development; Kenya Admin 1936-45 Munic. African Affairs Officer, Nairobi 1945-48; Principal Jeanes School 1949-50.
Area: Malindi, Kisumu, Kisii, Kabete, Taveta, Isiolo
Married: 24 Dec 1939 Patricia Hope Dorothea Noad b. 9 Nov 1919 Weymouth, d. 1999 Cirencester (dau. of John Elliott Moncrieff Noad OBE of Nairobi)
Children: Michael Thomas Noad (15 Dec 1945 Sevenoaks); Jonathan Marcus Hugh (1948); Jocelyn Hope (28 Sep 1942 Nairobi)
Author: 'Getting My Knees Brown' (1996), 'From Mau Mau To Harambee' (1995), 'Eyeball to Eyeball' (1998)
Book Reference: Staff 39, RH, Who's Who, Staff 53, EAWL, Hut, Colonial, O&C, Nicholls, Burke, WMN Obit., Askwith 1
War Service: Reserved Occupation
School: Haileybury College and Peterhouse, Cambridge MA (Cantab) (Rowing Blue & Olympics 1932 & 1936)
General Information:
Who's Who - Comm. for Community Development 1950-54; Cambridge Crew 1932-33, Olympic Crew (GB) 1932 & 36, Diamond Sculls 1933, Grand Challenge Cup, Henley 1932, Colquhoun Sculls 1931.
Staff 53 - Commissioner for Community Development in 1953. Originally Admin. Cadet 1936.
Nicholls - an old wood and iron building, Nairobi's original school and now the Boy Scouts' hut, with its two rooms, hall and kitchen. Tom Askwith, a DC, its first chairman, helped paint the venue, a small revolution in itself as whites were not supposed to get their hands dirty.
WMN - 29 Sep 2001 - Tom Askwith, who has died aged 90, rowed for Great Britain in 2 Olympic Games in the 1930s; later as a colonial administrator in Kenya at the height of the Mau Mau rebellion, he was a spirited advocate for the humane treatment of prisoners in internment camps. Askwith's father, who worked in insurance, was killed at Ypres in 1917. Tom went to Haileybury, then Peterhouse, Cambridge, to read engineering. He rowed in the winning Cambridge boat race crews of 1932 and 1933. The 1932 crew went on to represent Leander Club and win the Grand Challenge Cup at henley. They were then selected for the Great Britain eight at the 1932 Olympic Games in Los Angeles, where they finished fourth. In 1936 Askwith rowed again as part of the Great Britain eight at the Berlin Olympics. He recalled how, at the opening ceremony "our attention was gripped by the first glimpse of the Fuhrer staring in a penetrating way at each one of us. …….. In 1935, Askwith entered the Colonial Service. Posted to Kenya in 1936, Askwith stood out among his fellow colonial officers for his ability to discern the signs of social change in Africa. In all his posts, he promoted the concept of community development and supported organisations which gave women a greater say in local projects. He argued strongly for an end to segregation. ………. [more]
Rhodes House, Oxford has papers - RH s.1277