View entry
Name: DESMIER, Arthur Herbert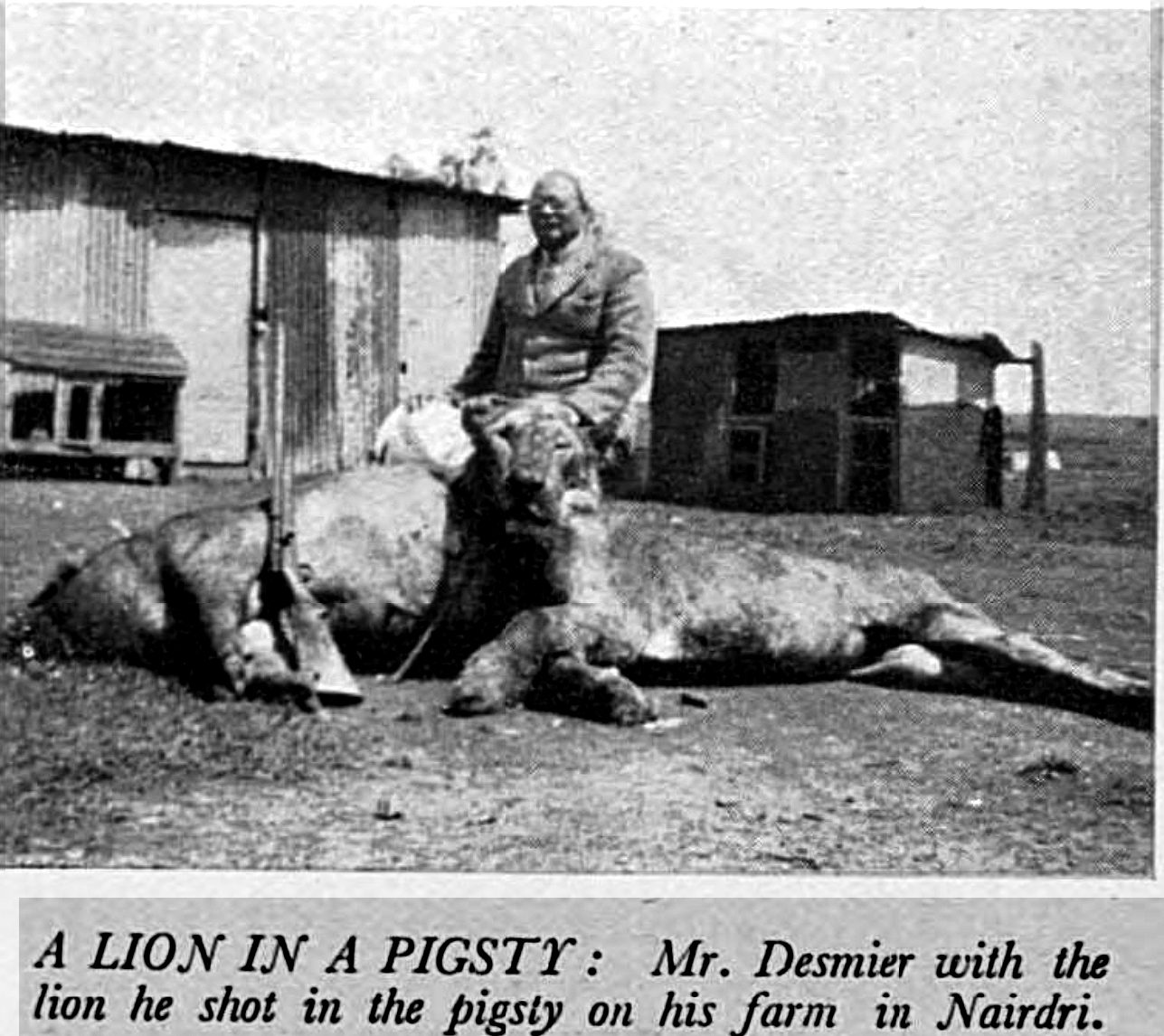 Nee: bro of William and Conrad Desmier
Birth Date: 8.11.1872 Kotri, India
Death Date: 6.1.1958 Nairobi
Nationality: British, Eurasian
First Date: 1898
Profession: Carriage examiner
Area: Nairobi
Married: At the Railway Institute, Mombasa 12.2.1903 Gertrude Marie Sayers b. 1886 Cork, d. 15.10.1955 Nairobi
Children: Edna Alicia (Brooks) (15 May 1907 Nairobi-1995 Cape Town); Arthur Etrich (8 Sep 1915 Nairobi-22 May 1941 Crete); Muriel Evelyn (16.11.1903 bapt. Mombasa 25.12.1903); Noelle Eileen (Harris) (25 Dec 1916 Nairobi); Gladys Gertrude (25.4.1905, bapt. Mombasa 22.5.1905)
Book Reference: Gillett, KAD, Red 31, North, Drumkey, Globe, Bur, Gazette, Link
General Information:
North - Issued with Bird Licence, Nairobi 4-6-1902
The Globe Trotter 6/3/07 - Programme of Variety Entertainment - Sunday 7th July 1900 - Cornet Solo - Mr A.H. Desmier
Nairobi City Park Burial Register - Arthur Herbert Desmier, British, age 84, died 6/1/58 AND Gertrude Mary Desmier, age 72, died 15/10/55 buried in same plot
Gazette - 17/12/1902 - Plague compensation after bubonic plague in March 1902 - Rs. 2078
Link 28 - Noelle Harris (née Desmier) [CMEs Drawing Office] who worked before the war, has died in Zimbabwe aged 88. Her father Albert Herbert Desmier worked in the Uganda Railway times as a CXR.
Web Arthur was born in Kotri but like the othersof the family was baptised at the St Francis Xavier Cathedral in Hyderabad. He emigrated to Kenya to work on the railways as did some of his other brothers but did not return to India. In 1922 he was a carriage Examiner for the Ugandan Railways and his wife Gertrude was also a clerk there. His daughter (initials ME) was also a clerk with Uganda Railways. Their son Arthur Etrich Desmier was born about 1915 was a Stoker 1st Class aboard HMS Gloucester. Gloucester played minor roles in the Battle of Calabria in 1940 and the Battle of Cape Matapan in 1941. She was sunk by German dive bombers on 22 May 1941 during the Battle of Crete with the loss of 722 men out of a crew of 807. More information about the sinking is available on the internet. Young Arthur was one of those killed and his name is on the Plymouth Naval Memorial (panel 52, column 3). Arthur Herbert also played a role in WWII as there is a medal card under his name stating he was part of the Nairobi defence force. He also must have had a farm in Kenya (see photo from a British magazine). Ships' passenger records show that he visited UK at least 3 times between the wars .He died in Nairobi in 1958 presumably after his wife and daughter as a notice seeking anyone with a claim on his estate was placed in the Kenya Gazette.
Barnes City Park cem Nbi d. 6 Jan 1958 aged 84, also his wife Gertrude Mary [sic] d.15 Oct 1955