View entry
Name: WONTNER, Roland Conrad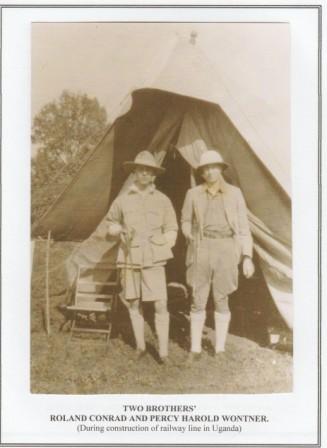 Short Name: son of Conrad Wontner Wunderlich
Nee: bro of Hugh Sidney and Percy Harold Wontner
Birth Date: 9 Nov 1901 St Pancras, London
Death Date: 5 Oct 1993 Cobham, Surrey
First Date: 1924
Profession: Civil engineer. Senior Draughtsman, Engineering Dept., Railways & Harbours Dept., in 1939, appointed 1930. Originally Temp. Draughtsman 1924
Area: Nairobi
Married: Winifred 'Binnie' Robins b. 20 May 1910, d. 15 June 1999
Children: Lesley A. (1944); Anthea (1947)
Book Reference: Staff 39, Red 31, Colonial, Harmony, Max Hutton
School: Regent St. Polytechnic Sch. and Northampton Polytechnic Sch.; A.M.INST.C.E., C.Eng.M.I.C.E.
General Information:
Member of Lodge Harmony - Initiated 3/4/33, age 31, Civil Servant, Nairobi
Max Hutton - Kenya Rifle Team - Bisley 1934 - Pte R.C. Wontner KDF
Colonial - Asst. Engnr. (design) 1940; Dist. Engnr. EAR&H 1949
Graham Wontner (nephew) He worked for the East African Railways and for British Rail. (SR) designing bridges.