View entry
Name: ELKINGTON, Margaret Meredith Kavanagh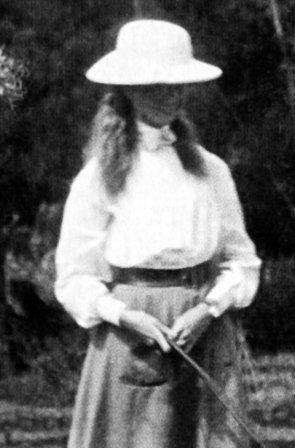 Nee: daughter of Jim Elkington
Birth Date: 10.10.1895 Kensington, London
Death Date: 1976. North has 1980
First Date: 1905
Profession: Horse breeder
Area: Nairobi
Book Reference: Markham, Red 31, Stud, Pioneers, Web
General Information:
EA Stud Book 1954 - Brood Mares - Thoroughbred - Breeders - Miss M. Elkington
Pioneers - Masara - Margaret Elkington - We arrived from England in about July 1905, and were taken to the Norfolk Hotel by Major J.H. Gailey, ……… There were only two houses to let and we took the one in Spring Valley which belonged to Mr Langmore and Mr Evans. Ours was an unlined tin bungalow with three rooms, an earth floor, and a few cane chairs and tables. The kitchen was a lean-to with 3 stones to cook on. We had to undress on our camp beds because of the rats. ……………. Racing had already started, so Father (Jim Elkington) built stables and became a very successful trainer. We used to ride down to the old Nairobi Racecourse to work the horses in the early mornings, six miles. Mr Goldfinch had a small pack of imported foxhounds which he gave to us, and they were the foundation of the Masara Hunt. We imported more foxhounds from Lord Leconfield and by 1912 had 30 couples. We built Masara in 1906; three rooms with an eight foot verandah all round the ends, the back of which was divided into smaller rooms. By 1908 we had 5000 coffee trees.
Web - After Jim's death Mrs Jim decided we should return to Masara. Busilughun was very isolated and lonely. Immediately after Mrs Jim's death, the Trustees sold Masara to Mr and Mrs T. Adamson who with great kindness agreed to let me have the house and cottage, stables and 25 acres of land rent free for life.
Web - Ancestry - Christened Brompton Parish London - Nov 22 1895 - Margaret Meredith Kavanagh Elkington
Markham - in 1910 aged 17 she was living at Delamere's Florida farm - a backward child.
Red 31 - Miss M. Elkington, Masara, Nairobi
Women's World - The little European family who had settled near Lower Kabete in the early part of the century had many friends. One was Chief Mulumugwal who was a frequent visitor to the house they built overlloking Loresho Ridge.
Another friend, John van der Weyer, sent a Somali to the Coast with sheep to sell. Instead of bringing home the money, he bought a grey Somali gelding and two fillies off a dhow, guessing quite correctly that this would please his employer equally well.
The bay filly, a Persian Gulf Arab, became the first pony for the 11-year-old girl at Lower Kabete. She had just learnt to ride and the new pony was to set the seal on a life-long association with horses.
This is just one of the many anecdotes written by Margaret Elkington, now 77 and still living in the wood and iron house planned and built with such loving care by her parents in 1906. They had arrived in the then British East Africa the year before for no other reason than her father's love of adventure and the fact that he had been a friend of Lord Delamere's at Eton.
Their first home was a three roomed tin hut with a mud floor infested with fleas and rats. The kitchen was a lean-to structure, containing three stones, and the "usual offices" were made from a packing case over a hole in the garden, topped by a bell tent.
Jim Elkington was to make his mark in the early days by training racehorses; his daughter , who shared his enthusiasm, later both trained and bred them, and the land around the house they built is still used for the same purpose by the well-known present-day trainer, Mrs Adamson.
When the site for their new home was chosen, the stables were built first, so that the horses should be comfortable even if the humans were not.
They called their house Masara mistaking the local pronunciation of the Mathari Valley which flowed through the nearby valley. On the very day the house was completed and the family moved in, one of the mares foaled, a lucky omen for the stables to which many owners were to send their horses. One of those that did was (later Sir) Northrup McMillan after whom the McMillan Library was named.
When Captain Grogan retired as a Steward of the Turf Club, Jim Elkington succeeded him. The racecourse was then on Racecourse Road, about 6 miles across untouched countryside from Masara. The Turf Club, started around the turn of the century, was flourishing by 1906 and held 3 race meetings a year.
Miss Elkington is now an old lady with a fund of memories and a sharp wit. One day when she was talking of the old days, a friend said: "But you should write all this down."
So she did, carefully typing it herself and sorting out many old photographs from her collection to go with it. Some of them, like those we reproduce here were taken by the late "Pop" Binks, a friend and early neighbour of the Elkingtons.... Her stories are funny, always interesting, occasionally tragic, as when the Elkingtons lost 9 horses in 1915 through an outbreak of anthrax and inoculations with faulty serum. The victims included Margaret's own first pony Duchess.
There are many links with present-day Kenya. Jim Elkington, with a friend from England, built the original Blue Posts Hotel naming it after a London pub. The early buildings consisted of a bar and dining room with a large verandah and 2 rows of round thatched huts. Margaret later caught typhoid through eating watercress from the Chania River.
During the 66 years of its existence only one baby was ever born on Masara. This was in the early 1920s when the Elkington family lived at Elmenteita and "the house was let to Mr and Mrs Bearcroft; their son Michael was born in our little smoking room."
That baby, Michael, better known by his universal nickname of "Punch", is still in Kenya today.
Jim Elkington had some of the earliest foxhounds imported into Kenya; he and his friends hunted jackals and Meets were on Wednesday and Sundays at 6 pm often starting from Government House.
In 1911 Margaret Elkington attended school for the first time - the Loreto Convent, Msongari.