View entry
Name: AUBREY, Dorcas Mabel MBE, Mrs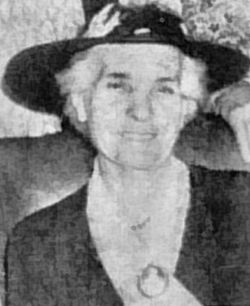 Nee: Grant
Birth Date: 1873 Kirkby-le-Soken, Essex
Death Date: 25 Oct 1961 Nairobi
First Date: 1913
Last Date: 1960
Profession: Founder Member EAWL, 1917; Dist. Vice. Pres. for 21 years and a patroness and Life Member of the League. Sixty - In 1933 ... started her sewing classes for African women with the help of the Ruiru branch of the EAWL
Area: Springfield Estate, Ruiru
Married: 1913 Arthur Edwin Aubrey (1878-1963)
Book Reference: Who's Who, Sixty
General Information:
Who's Who - King George VI Coronation Medal, Queen Elizabeth II Coronation Medal. Ran sewing classes own home for 1914-18 war, and Red Cross classes for shell dressings and all other dressings needed for WW2; for 3 years until advised against it due to State of Emergency, gave Cookery Demonstrations at one of the largest Independent schools in Kikuyu Reserve; On invitation to EAWL by Assoc. Country Women of the World, sent list of dishes to Daily Mail Exhibition in London with great success. Assisted in collection for present building, Lady Northey Home for Children (est. 1918); Comm. Mem. & Vice-Pres. of the Home for a number of years; Found. "Home-makers" for all races, 1945, at old Govt. Indian Girls' School for food demonstrations fruit bottling, jam making etc., second "Home-Makers" started at Kabete, approx 1951, and a third estab. at Arusha; Large number recipes from EAWL Cookery Book of 1942 appear in "Commonwealth Cookery Book" published in India.
Is in Thika Burial Register
Gazette 27 Feb 1962 probate
Kiambu Scrapbook - Mrs A.E. Aubrey (Dorcas) was the DVP of the League [EAWL] and did a great deal in raising funds to build the church [St. Michael and All Angels, Ruiru], supported by the local members of the League and of Ruiru Sports Club.