View entry
Name: ATKINSON, George Glanville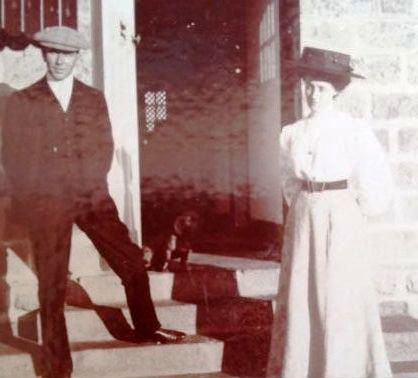 Birth Date: 1880
Death Date: 5 Oct 1945 Mombasa
First Date: 1908
Last Date: 1945
Profession: Solicitor in Mombasa
Area: Mombasa, 1925 Box 102, Mombasa
Married: Frances Muriel b. 6 Oct 1881, d. Mombasa 17 Feb.1910
Book Reference: Gillett, HBEA, KAD, Red 25, Red 31, Drumkey, Red 22, Nicholls, Medals, Leader14, Barnes, Red Book 1912, Red 19
General Information:
Drumkey 1909 - Barrister, Pleader - Mombasa
Red 22 - President, Mombasa Sports Club
Nicholls - WW1 - Martial law was declared and enemy aliens rounded up. The merchant Otto Markus, confined to his house in Mombasa, was surprised that his former friends disowned him, except for his legal adviser G.G. Atkinson who brought him food.
Medals - Mombasa Defence Force - Geo. G. Atkinson, Second Lieutenant
Barnes - Mombasa Cemetery - George Glanville Atkinson, died 5 Oct 1945 age 65, At Residence, Heart Failure
Red Book 1912 - G.G. Atkinson - Mombasa
Gazette 1/6/1908 - Notice is hereby given that George Glanville Atkinson, BA Dublin Univ., BL, has joined the firm of Messrs Byron and Harrison, Solicitors, Notaries and Pleaders and will henceforth sign for said firm as a partner.
Red Book 1919 - G G Atkinson - Solicitor - Mombasa
Golf - Present at the formation meeting of Mombasa Golf Club in 1911
There was a George Glenville [sic] Atkinson b. 5 Apr 1874 at Ballymoney, Co. Wicklow.